July 31, 2017
Ella's Kitchen
August – and the summer is coming to an end, but not the bounty of fresh fruits and vegetables.
Enjoy the produce of the summer garden.            –Ella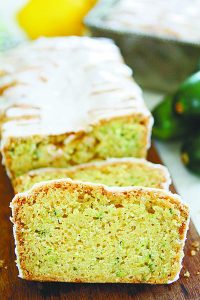 Lemon Zucchini Cake
1 1/4 cup granulated sugar
6 Tablespoons extra virgin olive oil
2 eggs, at room temperature
1/2 cup vanilla almond milk
2 Tablespoons lemon juice
1 teaspoon vanilla or almond extract
2 cups cake flour *
1 1/4 teaspoon baking powder
1/2 teaspoon kosher salt
1 1/2 cup shredded zucchini, drained and squeezed dry
2 Tablespoons lemon zest
Glaze: 1 cup powdered sugar 1 to 2 teaspoons lemon juice
---
Directions:
Preheat oven to 350 degrees. Spray loaf pan with cooking spray and line with parchment paper. Combine flour, baking powder and salt in a medium bowl and whisk together. Set aside. In a large bowl, combine the sugar and oil. Whisk together. Add eggs and almond milk, whisking together as you add them. Stir in lemon juice and extract. Gradually stir in flour mixture. Now fold in the zucchini and lemon zest.  Pour batter into the prepared loaf pan and bake for 45 to 55 minutes or until inserted toothpick comes out with only a few moist crumbs. The top of the cake should look dry. Place the loaf pan on a cooling rack for 15 minutes. Use the parchment paper to carefully lift the cake from the pan. Let cool completely on the rack. Meanwhile, in a small bowl, combine powdered sugar and lemon juice. Whisk until smooth. Drizzle over the cake.** Slice and serve.
*
To convert all purpose flour to cake flour take one cup of all purpose flour, leveled off. Remove 2 Tablespoons of the flour. Now add 2 Tablespoons of cornstarch. Sift together before using.
**
Powdered sugar can be sifted on top in place of making
the glaze.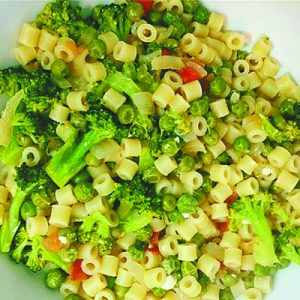 Pasta with Broccoli and Tomatoes
1/2 cup olive oil
2 large thinly sliced garlic cloves
1/2 teaspoon kosher salt
1/4 teaspoon red pepper flakes or more to taste
1/4 cup chopped fresh parsley
1 pound ditalini pasta *
1 large head of broccoli- peel and cut stems into small chunks and cut tops into florets

                                     

1 to 2 cups cherry or grape tomatoes halved or Roma tomatoes diced
Additional olive oil for garnish
Grated Pecorino Romano cheese
---
Directions:
Place olive oil, garlic, salt and pepper flakes into a small sauce pan. Place over low heat and fry garlic until a light golden color. Add parsley and take off heat. Set aside.
Cook pasta in salted water in a large pot for about 8 minutes. Add broccoli and cook together for about 5 minutes. The pasta should be al dente and the broccoli still crisp. Drain some of the water out. (Not too soupy, or to your liking). Gently stir in the tomatoes. Add the oil and garlic mixture. Add additional olive oil (up to 1/4  cup) if desired and stir. Top with grated cheese and serve.
* ditalini is a tubular pasta. It is Italian for "small thimbles."
It has been described as thimble-sized and very short. Small elbow or shell macaroni could be substituted.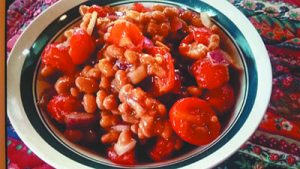 Pork 'n Beans Salad
A loyal reader introduced me to this twist for pork 'n beans. It came from the maternal grandmother who came from proud German stock.
Thanks F. H.
1 can of pork 'n beans
1 medium onion, chopped
1 to 1 1/2 cup diced tomatoes
Dash white vinegar
Smidgen of brown sugar or molasses
---
Directions:
Drain pork 'n beans. Add other ingredients, Stir. Refrigerate until ready to serve.
I recently made this for a church potluck. I used the 3lb 5oz can of beans, used the entire onion and about two pints of halved cherry tomatoes. About 1 Tablespoon white balsamic vinegar and 1 Tablespoon honey.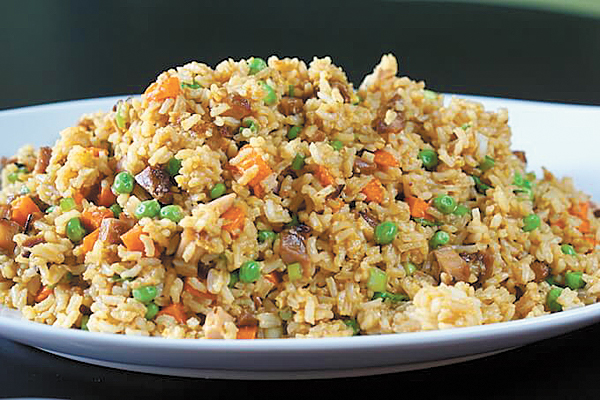 Chicken Fried Rice
1 pound chicken (2 -3 breasts)
cooked and shredded *
3 cups cooked rice
2 Tablespoons oil (Sesame is suggested, but olive or vegetable oil would work)
1 small onion, chopped
1 cup fresh or frozen peas
1 cup sliced or diced carrots
2 – 3 Tablespoons soy sauce (more or less to taste)
2 eggs, slightly beaten
2 Tablespoons chopped green onions
* You can buy an already cooked rotisserie chicken at your
grocer's deli.
---
Shred the meat, both white and dark. Preheat a large skillet or wok to medium heat. Pour oil on the bottom. Add onion, peas and carrots. Fry until tender, then slide mixture to one side. Pour the beaten egg on the other side and scramble. Once the eggs are cooked add the vegetable mixture. Add the rice and chicken. Pour soy sauce on top, stir and fry until heated all the way through. Stir in chopped onions. Serve and enjoy.
[Ella can be contacted at ellaweeza64@gmail.com or Ella – 50+ Lifestyles, 804 W Lombard Street, Davenport, IA, 52804]