September 10, 2009
Salmon is Right for Your Heart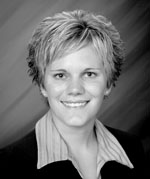 …studies show that eating fatty fish like salmon lowers your risk of heart disease.
By Valerie Wheatley, R.D., L.D., L.D.N
Hy-Vee Registered Dietician
(309) 787-0273
E-Mail: 1106dietitian@hy-vee.com
Fatty fish doesn't sound as if it would be good for your heart, but studies show that eating fatty fish like salmon lowers your risk of heart disease. Wild Alaskan salmon is available now and ready to help you with your health.
Wild Alaskan salmon swims in icy cold, pure water and gets its rich, red color from eating a natural diet of "krill" (a shrimp-like creature). Taste the superior texture and unmatched flavor! For your health, these salmon are high in protein and rich in omega-3 fatty acids.
Health Benefits of Eating Seafood
The American Heart Association recommends two servings of fatty fish a week.
Seafood is a "heart-healthy" choice high in omega-3 and protein.
Seafood is naturally high in essential vitamins like A, E, D and C.
Seafood is naturally high in zinc, iron, calcium and selenium.
Seafood is naturally low in calories and cholesterol in shellfish is equal to the amount of cholesterol in lean beef.
Most seafood has no saturated fat content
Seafood from Hy-Vee is Special
Hy-Vee seafood comes from the best, top-quality suppliers in the industry. Hy-Vee has the only warehouse in the Midwest with a full-time, "in-house" U.S. Department of Commerce (USDC) federal inspector and the seafood program is U.S. Federal Drug Administration (FDA) HACCP (Hazard Analysis & Critical Control Point)-approved. Our warehouse has fresh seafood arriving daily by plane or truck and it's lot-inspected for quality and wholesomeness.
Wild Alaskan Salmon Grilling Tips
Fish cooks best over a medium-hot fire. Be sure that the grill is hot before beginning. Brush oil on the grill just before cooking. Cut larger fillets into meal-size portions prior to grilling. Grill baskets work well for flaky fish to keep it from falling through the grill. Start grilling with skin-side up. If the fish has been skinned, the darker side should be up. This allows flavorful, natural fats to seep into the fish and keep it moist. Turn seafood only once. Cook fish about 10 minutes per inch of thickness. Remove from the grill when it is opaque throughout. It will continue to cook for awhile after it's off the grill.
Parmesan Alaska Salmon Delight
Serves: 6
All you need:
6 Alaska salmon steaks or fillets, thawed if frozen, about 6 ounces each
1/2 cup prepared low-fat or fat-free Italian salad dressing
1 tsp dried minced garlic
1/4 cup freshly grated Parmesan cheese
All you do:
Marinate salmon in Italian dressing 1-2 hours, refrigerated.
Preheat oven to 400°F.
Transfer salmon to a 9-by-13-inch baking pan lightly coated with cooking spray.
Lightly sprinkle each fillet or steak with minced garlic and Parmesan cheese, spreading evenly over fish.
Bake until done, about 10 minutes, or until fish flakes easily with a fork.
Nutrients per serving: calories 304; protein 38 gm; total fat 15 gm; sat fat 3 gm; omega-3 fatty acids 2.1 gm; cholesterol 79 mg; carbohydrate 0 mg; fiber 0 gm; sodium 303 mg.
Source: www.alaskaseafood.org
Filed Under: Health & Wellness
Tags: 3 Fatty Acids, American Heart Association, Critical Control Point, Fatty Fish, Federal Drug Administration, Federal Drug Administration Fda, Federal Inspector, Fish Cooks, Heart Studies, Hot Fire, Hy Vee, Lean Beef, Natural Diet, Omega 3 Fatty Acids, Quality Suppliers, Seafood Program, Size Portions, Unmatched Flavor, Wild Alaskan Salmon, Zinc Iron
Trackback URL: https://www.50pluslife.com/2009/09/10/salmon-is-right-for-your-heart/trackback/