July 6, 2011
Look for the Fun in Life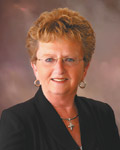 By Diana Spranger, R.N.
Administrator
Bettendorf Health Care
The month of July has arrived once again, and it's truly beginning to feel as though summer is here. We had plenty of rain in June, and with lots of warm nights, "can't you just hear that corn growing?" That's what my dad always said to me as a kid growing up on the farm. He would tell me it took rain and good warm nights to make a good corn crop, and if I would be still enough (which rarely ever happened), I could hear that corn grow at night. I actually believed him at that time, now Not So Much…..
When July rolls around, I always know we have a fun family time coming. The fourth of July was always a special time for us growing up, and I still enjoy the fun it brings. There's nothing to bring the kid out in a person like a good fireworks display. Many a 4th of July night, I've set on the ground on a blanket with snacks and treats for two-plus hours just to secure a great seat to see the fireworks when the sun
finally went down. I grew up in Missouri where fireworks were legal, so we always had great fireworks at home on the farm. It seems as though we made our own fun in those days.
Speaking of making your own fun, I got an e-mail from my daughter a couple weeks ago, and my 9-year-old grandson, Aaron, was busy making his own fun. She sent me her version of 'Funniest home videos' of Aaron cruising down their staircase in a homemade boxcar. It truly was a "box" car. He had created a car out of cardboard big enough for him to crawl into, and he then mounted himself at the top of the stairs, pushed off and 14-16 stairs and a bumpy ride later, he ended up at the bottom of the stairs in a pile of pillows. At that point, even though I didn't see it on video, he got out of that boxcar, climbed the stairs and set himself off down the cliff again. Years ago, we might have just considered that a busy young boy making his own fun. Today maybe his mother and dad see a bit off an engineer on the rise.
I guess I told you that story to make you think of a younger day, a day when you and I were kids and looking forward to a fun holiday, a boxcar ride in a homemade car, or just a bowl of homemade ice cream. Take time to look for the fun things in life, the adventures you created for yourself. Remember the child or grandchild that did something that made you laugh till you cried.
Have a wonderful July and don't miss a thing that will make your day more fun and your spirit lighter.
Tags: 4th Of July, Bettendorf, Box Car, Boxcar, Bumpy Ride, Cardboard, Corn Crop, Couple Weeks, E Mail, Family Time, Fireworks, Fourth Of July, Fun Family, Funniest Home Videos, Month Of July, Pillows, Special Time, Spranger, Staircase, Top Of The Stairs
Trackback URL: https://www.50pluslife.com/2011/07/06/look-for-the-fun-in-life/trackback/