January 31, 2018
What Will You Pay for Medicare in 2018?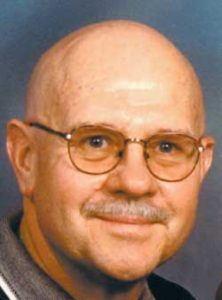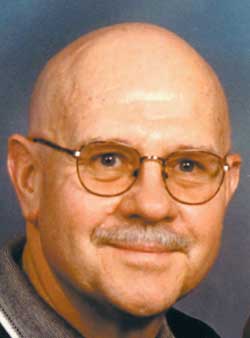 By Richard J. Schillig, CLU, ChFC, LUTCF
Independent Insurance and Financial Advisor
The Centers for Medicare & Medicaid Services (CMS) has announced that the standard monthly Part B premium in 2018 will remain $134 (or higher, depending on your income). In 2017, most Medicare beneficiaries who received Social Security benefits paid a lower monthly premium ($109, on average).
However, this is likely to change in 2018.
Due to a provision in the Social Security Act called the "hold harmless" rule, Medicare premiums for existing beneficiaries can't increase faster than their Social Security benefits. Over the past few years, Social Security benefits didn't increase much because of low or no cost-of-living increases. However, there will be a 2 percent cost-of-living increase for Social Security benefits in 2018. This increase will cause more people to pay higher monthly Medicare Part B premiums closer to the standard ($134) amount. The Social Security Administration (SSA) will tell you the exact amount of your Part B premium in 2018.
Approximately 30 percent of Medicare beneficiaries are not protected by the hold harmless rule, and may pay the standard premium or more for Medicare Part B. You fall into this group if:
You enroll in Part B for the first time in 2018.
You don't get Social Security benefits.
You're directly billed for your Part B premiums (meaning they aren't taken out of your Social Security benefits).
You have Medicare and Medicaid, and Medicaid pays your premiums.
Your modified adjusted gross income, as reported on your federal income tax return from two years ago, is above a certain amount.*
The table below shows the Part B premium you'll pay next year if you're in this group.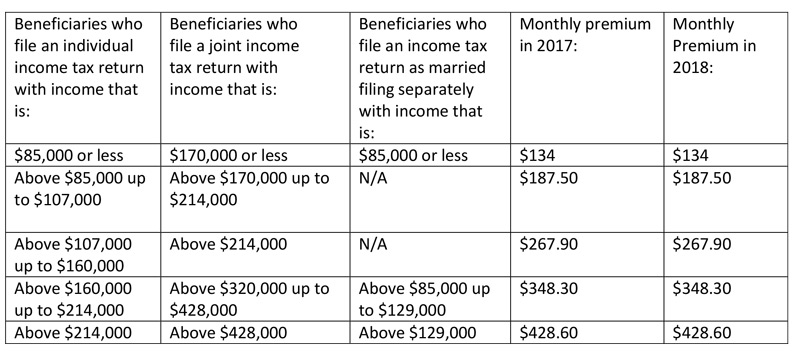 *Beneficiaries with higher incomes have paid higher Medicare Part B premiums since 2007. To determine if you're subject to income-related premiums, the SSA uses the most recent federal tax return provided by the IRS. Generally, the tax return you filed in 2017 (based on 2016 income) will be used to determine if you will pay an income-related premium in 2018. You can contact the SSA at (800) 772-1213 if you have new information to report that might change the determination and lower your premium (for example, you lost your job and your income has gone down, or you've filed an amended income tax return).
Other Medicare costs
Other Medicare Part A and Part B costs in 2018 include the following:
The annual Medicare Part B deductible for Original Medicare will be $183, the same as in 2017.
The monthly Medicare Part A (hospital insurance) premium for those who need to buy coverage will cost up to $422, up from $413 in 2017. However, most people don't pay a premium for Medicare Part A.
The Medicare Part A deductible for inpatient hospitalization will be $1,340, up from $1,316 in 2017.
Beneficiaries will pay an additional daily coinsurance amount of $335 for days 61 through 90, up from $329 in 2017, and $670 for stays beyond 90 days, up from $658 in 2017.
Beneficiaries in skilled nursing facilities will pay a daily coinsurance amount of $167.50 for days 21 through 100 in a benefit period, up from $164.50 in 2017.
To view the Medicare fact sheet announcing these and other figures, visit medicare.gov.
We continue our monthly Community Meetings in 2018 focusing on the basics of Medicare and the choice of options. Feb 20 we review the basics of Medicare and focus on the Medicare Supplements. Feb 22 we again review the basics of Medicare and focus on the alternative Advantage Plans. Please see our ad this page. If you are aging into Medicare in 2018 these informational meetings will be very beneficial. Please call for a reservation.
Richard J. Schillig, CLU, ChFC, LUTCF is an Independent Insurance and Financial Advisor with RJS and Associates, Inc. He can be reached at (563) 332-2200.