March 29, 2018
Ella's Kitchen
April brunch, lunch or tea time recipes. Enjoy the social time of spring get-togethers.
– Ella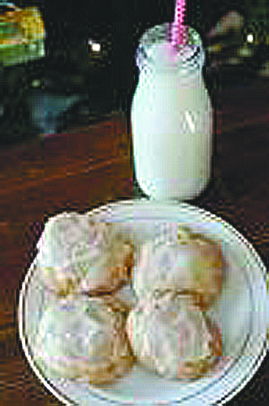 Frosted Pineapple Cookies
1 can (8 oz.) crushed pineapple

2 cups all purpose flour

1 cup packed brown sugar

1 1/2 tsp. baking powder

1/2 cup shortening

1/4 tsp. baking soda

1 egg 1/4 teaspoon salt

1 tsp. vanilla extract

1 1/2 cups confectioners' sugar
---
Drain the pineapple reserving 3 tablespoons of the juice. Set juice aside for the frosting. In a mixing bowl, cream together the shortening and sugar. Add egg and mix well. Add pineapple and vanilla. Mix well. In another bowl, mix together the flour, baking powder, baking soda and salt. Now stir in the creamed mixture. Drop batter by teaspoonfuls 2 inches apart onto a greased cookie sheet. Bake at 325 degrees for 17-20 minutes until golden brown. Immediately remove from sheet and place to cool on wire rack. For frosting, in a small bowl, beat confectioners' sugar and reserved pineapple juice until smooth. Frost cooled cookies. Should yield about 3 dozen.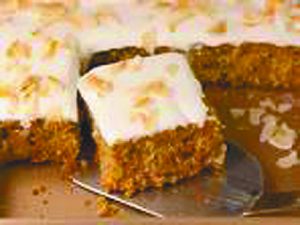 Tropical Carrot Cake
3 eggs

3/4 cup vegetable oil

3/4 cup buttermilk

2 cups all purpose flour

2 cups sugar

2 teaspoons baking soda

2 teaspoons ground cinnamon

1/2 teaspoon salt

2 teaspoons vanilla extract

1 cup raisins

2 cups finely shredded carrots

1 cup flaked coconut

1 can (8 oz.) crushed pineapple, undrained

1 cup pecans or walnuts (optional)
Frosting:
1 package cream cheese, softened

4 ­– 4 1/2 cups confectioners' sugar

1 – 2 tablespoons heavy cream

1 teaspoon vanilla extract
---
In a large bowl, beat eggs, oil and buttermilk. Combine flour, sugar, baking soda, cinnamon and salt. Add to egg mixture and mix well. Stir in vanilla, carrots, raisins, pineapple, coconut (and nuts if desired). Pour into greased 13x9x2 baking pan. Bake in 350 degree oven for 40-45 minutes, until cake tests done. Cool. For frosting, beat creamed cheese, 4 cups of sugar, cream and extract in mixing bowl until smooth. Add a little more sugar if needed. Humidity is a factor in the amount of sugar needed. When cake has cooled, frost the cake.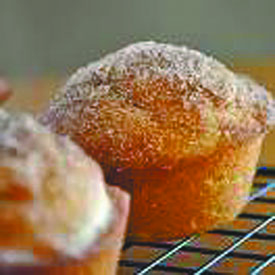 French Breakfast Muffins
1 1/2 cups plus
2 Tbls. flour
Dipping liquid:
3/4 cup sugar
1/3 cup melted butter
2 teaspoons baking powder
1/2 teaspoon vanilla
1/4 teaspoon salt
1/3 cup sugar
1/4 teaspoon ground nutmeg
1 tsp. ground cinnamon
1/2 cup milk
1 egg, beaten
1/3 cup butter, melted
---
Combine first five ingredients. Then gradually add the milk, egg and butter. Mix thoroughly. Grease and flour small muffin tins. Fill tins 1/2 full, bake at 400 degrees for twenty minutes or until lightly brown. Meanwhile mix together the sugar and cinnamon in a a medium shallow bowl, Stir the vanilla into the melted butter. when muffins are done, immediately dip them, one by one in the butter vanilla liquid, then roll them in the cinnamon sugar bowl.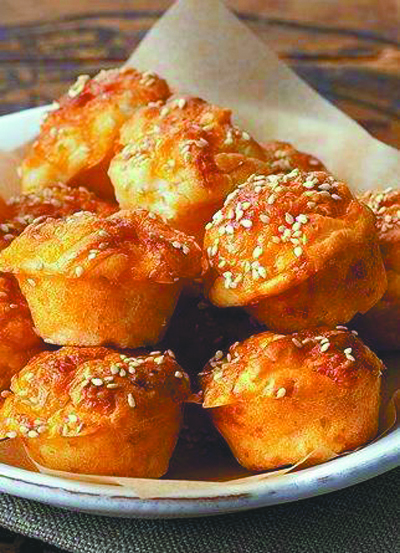 Sesame Cheese Muffins
1 1/2 cups Bisquick Mix

1 tablespoon butter

1/2 cup minced onion

1 egg, beaten

3/4 cups grated sharp Colby cheese

1/2 cup milk

2 tablespoons sesame seeds, toasted
---
Sauté onions in the butter until transparent. Mix Bisquick and 1/2 cup of the cheese together. Combine the egg, milk and onion together. Add all at once to the bisquick mixture and beat vigorously for 30 seconds. Fill well greased muffin tins 2/3 full. Top with a little grated cheese and toasted seeds. Bake at 400 degrees for 12 to 15 minutes.
[Ella can be contacted at ellaweeza@yahoo.com or Ella at 50+ Lifestyles, 804 W Lombard Street, Davenport, IA, 52804]