May 1, 2018
YOUR SOCIAL SECURITY | Davenport, Iowa Office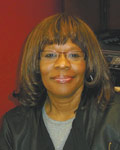 By Linda Clayton-Powell
Social Security District Manager
Davenport, Iowa
SHARING SECURITY WITH MOM ON MOTHER'S DAY
Spring is upon us, and it marks two very popular annual events: Mother's Day and the release of Social Security's baby name list! There's no better time to share some security with the people you love.
While spending time with your mom on Sunday, May 13, you can help her quickly and easily sign up for a free, online my Social Security account. You can do it from home, which means more time doing the things you want to do together.
Signing up for a my Social Security account will give Mom the tools she needs to stay on top of her
Social Security benefits. When she signs up at www.socialsecurity.gov/myaccount, she can do a number of things.
If she does not receive benefits, she can:
Request a replacement Social Security card if she meets certain requirements;
Check the status of her application or appeal.
Get her Social Security Statement, to review:
Estimates of her future retirement, disability, and
survivors benefits;
Her earnings once a year to verify the amounts that we posted are correct; and
The estimated Social Security and Medicare taxes she's paid.
If she does receive benefits, she can:
Request a replacement Social Security card if she meets certain requirements;
Report her wages if she works and receives Disability Insurance benefits;
Get her benefit verification letter;
Check her benefit and payment information and her earnings record;
Change her address and phone number;
Start or change direct deposit of her benefit payment;
Request a replacement Medicare card; and
Get a replacement SSA-1099 or SSA-1042S for tax season.
Is Mom not yet receiving Social Security benefits and still planning her retirement? Does she need a little help calculating how her benefit amount fits in with her other income sources in retirement? It's easy to get instant, personalized benefit estimates, too. Our Retirement Estimator is the only source that provides Mom with Social Security estimates based on her own earnings record. This allows her to receive the most accurate estimate of her future retirement benefits. Visit the Retirement Estimator at www.socialsecurity.gov/estimator.
Did you know that you and Mom can also share the 10 most popular male and female baby names of 2017? Social Security is the source for the most popular baby names, and we reveal the new names every year to celebrate Mother's Day. Be sure to check our site around Mother's Day at www.socialsecurity.gov/oact/babynames/.
Sharing information about Social Security and helping Mom sign up for a my Social Security account at www.socialsecurity.gov/myaccount is a meaningful gift that shows you really care.
FIVE STEPS FOR SOCIAL SECURITY SUCCESS
No matter how much you've planned, there's no better time than now to think about your future. We'd like to encourage you to take Five Steps toward Your Financial Security. Planning for the future may seem intimidating to many, but we've broken the task down into five easy steps:
Step 1: Get to know your Social Security — You and Social Security are on a journey for life, but there is so much you may not know about the benefits and services we provide. Social Security delivers financial security to millions of children and adults before retirement; including the chronically ill, children of deceased parents, and wounded warriors. Learn more at www.socialsecurity.gov/agency.
Step 2: Verify your earnings — Your benefits are calculated using your employment records. You can use your personal my Social Security account to verify that your earnings are recorded accurately. Access your account today at www.socialsecurity.gov/myaccount.
Step 3: Estimate your benefits — With our Retirement Estimator, you can estimate your future retirement or disability benefits based on your actual earnings record. This can be invaluable as you plan for your future. View our calculators at www.socialsecurity.gov/planners/benefitcalculators.html.
Step 4: Apply for benefits — You can apply for retirement, Medicare, or disability benefits online through our easy-to-use, secure online application that is convenient to navigate. Read more about benefits and apply now at www.socialsecurity.gov/benefits.
Step 5: Manage your benefits — Social Security puts you in control by offering convenient and secure services that fit your needs. Verify your payment information, change your address or phone number, get a benefit verification letter, and even start or change direct deposit of your benefits. See all the things you can do at www.socialsecurity.gov/myaccount.
Share this information with the people you love. Get to know your Social Security and the many ways we help secure today and tomorrow for you and your family at www.socialsecurity.gov/5steps.