July 30, 2018
Ella's Kitchen
Reaping August's bounty… these recipes are from Mary Schricker Gemberling. She talks about from garden to table in her article on page 29.
-Ella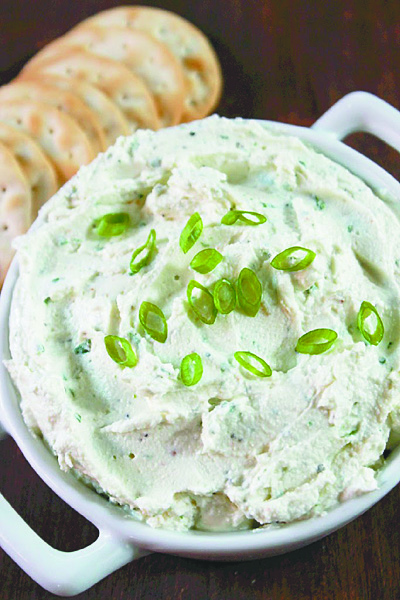 Whipped Herb Cheese
Ingredients
¼ cup fresh parsley leaves minced
2 ounces parmesan cheese
8 oz. creamed cheese

 

(I use low fat to save on calories)
2 Tablespoons sour cream
3 drops of hot sauce
2 Tablespoons chopped fresh chives
½ teaspoon fresh ground pepper
---
Directions
Combine and refrigerate the above ingredients. Let stand at room
temperature for 30 minutes before serving with crackers.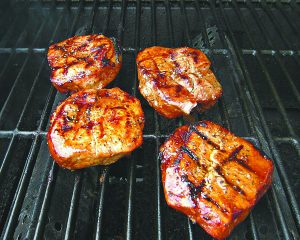 Herb Marinated Pork Chops
Ingredients
4 Boneless Pork Chops
2 Tablespoons lemon juice
2 Tablespoons olive oil
2 Tablespoons fresh chopped parsley
1 teaspoon fresh chopped rosemary
1 teaspoon fresh chopped oregano
½ teaspoon fresh chopped sage
¼ teaspoon fresh pepper
---
Directions
Brush chops with lemon juice. Combine oil, herbs & pepper and mix well. Rub herb mixture on both sides of chops. Arrange in baking dish, cover and refrigerate 4 Hours to overnight. Grill chops 12-15 minutes turning once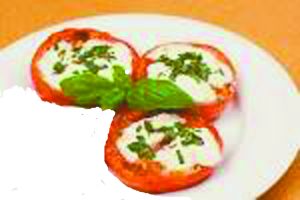 Tomato Caprese Salad
Ingredients
Tomatoes sliced ½ "thick (2-3 slices per person)
8-12 ounces Fresh Mozzarella Cheese
8-12 Fresh Basil leaves
3-4 Tbls. Olive Oil mixed with 6-8 Tbls. balsamic vinegar
---
Directions
Place sliced tomatoes on a plate, top with a slice of Mozzarella cheese and sprinkle fresh basil on cheese. Lightly drizzle with oil and vinegar combination.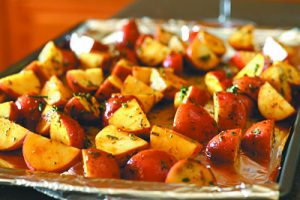 Rosemary Roasted Red Potatoes
Ingredients
8 medium red potatoes quartered with skin on
2 Tablespoons fresh rosemary chopped
3 Tablespoons olive oil
1 teaspoon garlic salt
1 teaspoon fresh ground pepper
2 Tablespoons finely chopped fresh parsley
---
Directions
Combine rosemary, oil, garlic salt, and pepper in a large plastic zip-lock bag. Add potatoes and toss until well coated. Spread contents of the bag on cooking sheet and roast in 400-degree oven for about 45-50 minutes, stirring every 15 minutes.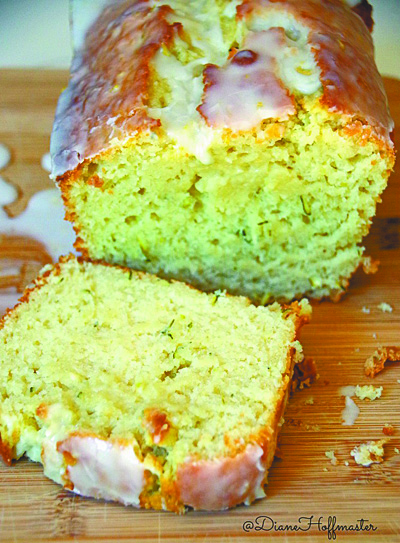 Lemon Zucchini Cake
Ingredients
1 ¼ cup granulated sugar
6 Tablespoons olive oil
2 eggs
1/3 cup almond milk (can substitute regular milk)
2 Tablespoons lemon juice
1 teaspoon almond or vanilla
2 cups cake flour
1 ¼ teaspoon baking powder
½ teaspoon salt
2 Tablespoons lemon zest
1 ½ cups shredded zucchini
Glaze:

 

1 cup powdered sugar combined with 2 Tbls. lemon juice
---
Directions
Preheat oven to 350F. Spray loaf pan with baking spray.
Whisk together flour, baking powder, & salt and set aside.
Whisk sugar, olive oil, eggs and milk together. Add lemon juice and vanilla and stir until mixed thoroughly. Add flour mixture and stir until incorporated. Fold in zucchini and lemon zest. Pour batter in pan and bake 45-55 minutes or until a toothpick inserted in center comes out clean. Cool 30 minutes. Stir powdered sugar and lemon juice together and drizzle over cake.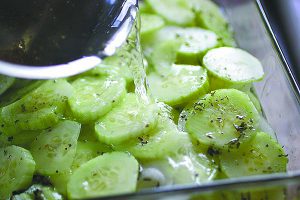 Cucumbers and Onions
Ingredients
2-3 medium cucumbers
1 sweet white onion
---
Directions
Peel and slice 2-3 medium cucumbers and one sweet white onion.  Slice very thin. Add ½ cup white vinegar, ½ cup granulated sugar and 1 tablespoon celery seed. Combine and chill.
[Ella can be contacted at ellaweeza@yahoo.com or Ella at 50+ Lifestyles, 804 W Lombard Street, Davenport, IA, 52804]