October 2, 2018
Ella's Kitchen
Autumn and apples go together. There is just something about the smell and taste of apples – crisp, refreshing, warm and tantalizing. The same can be said for autumn. Plan to go apple picking this fall, or at least to the farmers' market!
Here is a list of varieties recommended by apple variety collectors:
Sweet Apples: Fuji, Gala, Golden Delicious, Honey Gold, Jonagold, Mutsu
Tart Apples: Belle de Boskoop, Bramley's Seedling, Calville Blanc, Cortland, Granny Smith, Grimes Golden, Idared, Jonathan, McIntosh, Melrose, Monark, Newtown Pippin, Northern Spy, Prima, Rhode Island Greening, Signe Tillish, Spartan, Spigold, Summer Rambo, Winesap
Most apple dessert recipes are developed and tested using tart apples. Sweet apples are used successfully in desserts, but only if the amount of sugar is drastically reduced.
Autumn Squash and Apple Bisque
8 Tbs. butter
2 large yellow onions, peeled and chopped 1 tsp. ginger
1  tsp. cinnamon
2  quarts chicken stock
4  medium autumn squash (about 3 pounds total), such as
acorn, butternut or hubbard, peeled, seeded and diced
5  firm-fleshed apples, cored, peeled and diced
1 cup heavy whipping cream
1/2 cup dry sherry
sea salt and cayenne pepper to taste
---
Melt butter in a heavy bottomed Dutch oven over medium heat. Add onions, ginger, and cinnamon. Saute, stirring constantly, until onions are transparent. Quick Trick: Peel, core and slice the apples with "the machine." Make about eight cuts through the spiral to dice. Add chicken stock, squash, and apples and bring to a boil. Simmer until squash and apples are soft. Cool mixture slightly. Puree in a blender, filling the container no more than 3/4 full. Add whipping, sherry and season to taste with sea salt and cayenne pepper. Return to heat and warm through. Pass more sherry at the table, if desired. Serves 12 as a first course.
NOTE: Serve this rich, intriguingly flavored, soup in demitasse cups as a starter, or in larger bowls as a first course.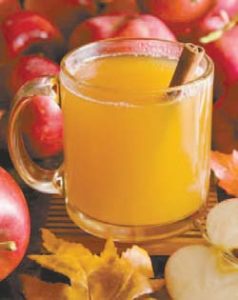 Hot Buttered Cider and Rum
2 quarts apple cider
1 cup dark rum
3 tablespoons butter
1/2 teaspoons freshly grated nutmeg
---
Place the cider in a large enameled stock pot. Bring the cider to a simmer over medium heat. Add rum and butter and heat through until butter is just melted. Grate nutmeg over top of butter. Ladle cider into warm mugs and serve. NOTE: If you're planning a festive party or fall hayride, this is just the drink to warm chilled bones!
Serves 8
Apple Peel Tea
10-12 crumbled dried leaves of lemon verbena peel from 1 apple (the more fragrant the apple, the more flavorful the tea)
---
Rinse a teapot with boiling water to warm it. Place the lemon verbena and apple peel in the teapot. Pour boiling water into the pot to fill it. Cover and allow to steep for 5 minutes before serving.
Makes one pot.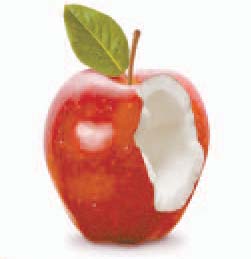 Autumn Cider and Champagne Apertif
1 gallon of good quality fresh cider
4 bottles of inexpensive champagne
---
Chill both the cider and the champagne. Fill the champagne glasses half full of cider. Top off the other half with the champagne.
[Ella can be contacted at ellaweeza@yahoo.com or Ella at 50+ Lifestyles, 804 W Lombard Street, Davenport, IA, 52804]