September 23, 2022
CASI to Celebrate 50 Years in 2023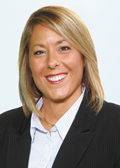 By Laura L. Kopp, MS
CASI President/CEO
As I look towards my own 50th trip around the sun, I am reminded of what it took to get to this stage in my life and what the next 50 years could look like. CASI is much the same. In 2023, CASI will celebrate 50 years of service to Quad Cities seniors.  And like anyone facing a major milestone, we are looking back with pride at all we have accomplished and forward with hope for all that is yet to come.
In February 1973, a small group of "good deed doers" saw a need for nutritional support, affordable housing, and transportation for seniors. Together they identified funding, built partnerships, and created a community where older adults could age successfully on their own terms.  Some of these milestones included:
Securing the first Area Agency on Aging dollars.
Hosting 17 congregate meal sites throughout Scott County (now Milestones Area Agency on Aging).
Partnering with the City of Davenport to establish the community's first affordable senior housing complex (now Edgewater on Third).
Administering the community's first senior transportation (now River Bend Transit).
Establishing the community's first free senior advocacy and outreach program which helps connect seniors with the services/supports they need to remain independent in their homes.
Opening the Quad Cities community's first adult day services program (i.e., Jane's Place) for individuals diagnosed with Alzheimer's disease and other dementias.
Assisting more than 300,000 seniors to age on their own terms.
Our next 50 years promise to be just as busy and even more important as we see wave after wave of baby boomers turning age 65 every day. Seniors represent one of the fastest
growing age demographics in the Quad Cities. But today's senior walks, talks and texts much differently than the seniors we began serving 50 years ago. First and foremost, they don't see themselves as "older" adults. They feel young inside and out and approach aging with spunk and vigor unlike any generation before them.  Together, through our innovative activities, educational programming and supportive services, we are redefining aging for generations to come.
We invite you to join us as we celebrate 50 years of service to the Quad Cities in 2023.
Laura L. Kopp, MS is President/CEO of CASI, located at 1035 W. Kimberly Road, Davenport, IA  52806. For information call (563) 386.7477 or email info@CASIseniors.org.
Filed Under: Community, Finance, Retirement
Trackback URL: https://www.50pluslife.com/2022/09/23/casi-to-celebrate-50-years-in-2023/trackback/