June 29, 2017
Ella's Kitchen
"I came across these recipes from a Betty Crocker cookbook that had been given me at a wedding shower.
This was entitled "Frankly Thrifty – a delicious meal while pinching pennies at the same time." – Ella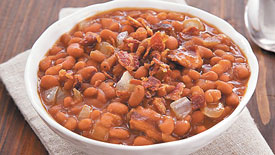 Speedy Baked Beans
2 strips bacon, diced                        
1 small onion                                  
1 can (1lb) baked beans with pork    
1/2 teaspoon prepared mustard
2 tablespoons chili sauce
---
Heat oven to 350 degrees. Sauté bacon and onion until bacon is crisp and onion is transparent. Stir in remaining ingredients. Pour into greased 1-quart baking dish. Bake uncovered 45 min, or until beans are brown and bubbling. Serve hot. Will make 2 generous servings. Serve as a side to a slice of ham or a grilled hamsteak.
Variations:
Baked beans with Canadian Bacon                               
Serve the beans with slices of hot broiled or fried Canadian bacon.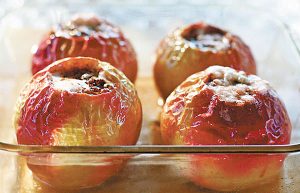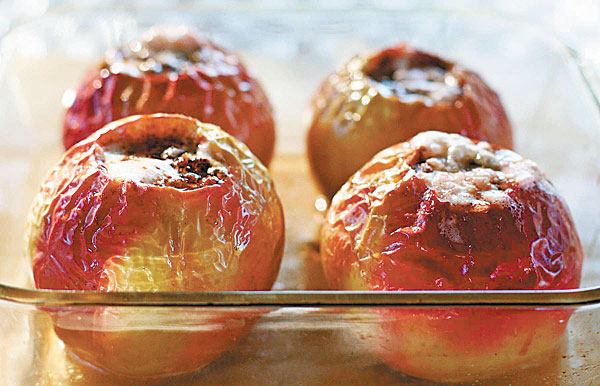 Baked Apples
Choose 2 – 4 baking apples, such as Rome Beauty, Jonathon, Granny Smith, etc.
---
Heat oven to 350 degrees. Wash and core the apples. You can either pare the top half of the apple or simply pare a strip around the center. Place in a baking dish; fill the center of each apple with 1 to 2 teaspoons granulated or brown sugar, 1 teaspoon butter and 1/8 teaspoon cinnamon. Cover the bottom of the pan with water about a 1/4 inch deep. Bake uncovered 45 to 60 minutes, basting occasionally. Serve warm, plain or
with cream.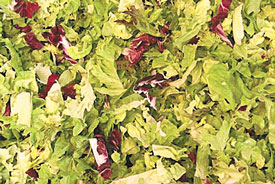 Mixed Vegetable Salad
1 cup torn chilled salad greens
1 cup chopped vegetables (raw or chilled after cooking)
Oil and Vinegar dressing
---
Toss greens and vegetables with just enough dressing to coat greens.
Note: Cut-up mixed vegetables are available in an 8-ounce can – just 1 cup. Or you can use 1 cup of frozen mixed vegetables. How simple is this salad?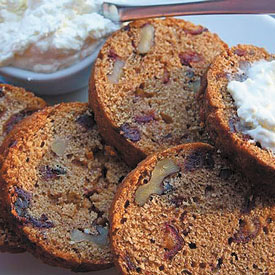 Dark Date Nut Bread
1/2 cup boiling water   
1/2 cup mixed light and dark raisins        
1/2 cup chopped dates  
1 1/2 teaspoon butter  
3/4 teaspoon baking soda
3/4 cup plus 2 Tablespoons all purpose flour  
1/2 cup sugar
1/4 teaspoon salt 1/2 teaspoon vanilla 
1 egg, slightly beaten
1/4 cup chopped nuts                                                                                 
---
Heat oven to 350 degrees. Pour boiling water over raisins, dates, butter and soda; let stand. Mix flour, sugar and salt well; add fruit mixture and the remaining ingredients. Beat well; pour mixture into small greased and floured loaf pan (The original recipe calls for a 1-lb.
coffee can, but unless you have held on to one, you probably won't find one.) Bake 60 to 70 minutes. Leftover bread can be covered with wrap or aluminum foil and refrigerated or place in the freezer for future use.
Note: I have added craisins to the raisin mixture and substituted dried apricots for the dates. I used almonds as my nut choice
[Ella can be contacted at ellaweeza@yahoo.com or Ella ñ 50+ Lifestyles, 804 W Lombard Street, Davenport, IA, 52804]