June 29, 2017
Max's Musings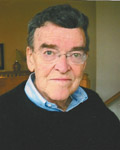 By Max Molleston
For a few times over a few years, I have dealt  with translation in poetry. For those of us with English as our first language, we may want or need to spread our wisdom into other languages. That is accomplished for us by poets who have either used another language as their number 2 or have taken a more challenging path to bring the language to English.
I usually wrestle with this point of view because I have seldom "translated." Maybe a word to assist my wife as she moved rapidly through her crossword puzzle. I was exposed to Italian on trains and bars in Italy, later from a college text, decades in the past.
Charles Baudelaire, Frenchman, was a breakaway poet in the middle Seventeen hundreds. By that, I mean he wrote of his people. A realist, he was not necessarily a producer of sweetness  Here are a few stanzas of eight.
Ragpickers Wine
A ragpicker stumbles past, wagging his head
and bumping into walls with a poet's grace,
pouring out his heartfelt schemes to one
and  all, including spies from the police. 
He swears to wonders, lays down noble laws,
reforms the wicked, raises up their prey,
and under the lowering canopy of heaven 
intoxicates himself on his own boasts .
Wine, French or\f course, moves about in parts of his poetry. Aside from his artful positioning of words and phrases, we are left to review his balance between "truth" and  sarcasm. Because Charles Baudelaire was admired and  renown, and as it seems, a critic of life as it is lived, we say both: a reporter with  a profound sarcasm. My life long work as a reporter gives me the pathway to some authentic sense on this poet. Richard Howard translated this poem and many more, plus eight of the poet's prose poems, published as a series in the middle of the last century by Alfred Knopf.
Over modern times as readers of and listeners to poems, we have become familiar with the translations from Slavic  natives. Vaclav Havel, top politician as a Czech, is one. Long a listener and reader, I have come to sense the romantic in Slavs whether in literature or in its partner music. The ability to repeat parts of native culture, or to outright invent. Jaroslav Seifert received the Nobel Prize. Here is sensitivity.
SONG
We wave a handkerchief
on parting 
everyday something is ending,
something beautiful's ending.
The carrier pigeon beats the air
returning;
with hope or without hope
we're always returning.
Go dry your tears
and smile with eyes still smarting,
every day something is starting,
something beautiful's starting.
Translators were Edward Osers, and additional editing  and translations by George Gibian.
This reference volume was published by Macmillan in 1986, however original copyrights  came as far back as 1921. The Poet Jaroslav lived  long, born in 1901, dying in 1986, hence the very modern (1980's) notice of his life's work  came later.  Poet  recognition has occurred over time like a late train, it finally arrives. There have been scores of poets unrecognized until someone digs into a dresser, or a "nearly thrown out" cardboard box. Most won't be recognized, ever, and  for many of those  the composing of some poems seems to
satisfy.  Join me here when  August hosts us in a hot and muggy fashion.