September 7, 2017
Ella's Kitchen
Will we have an early frost or an extended summer hot spell? September meals can include cool salads, refreshing sorbets, or homemade breads and hot and hearty comfort food!
– Ella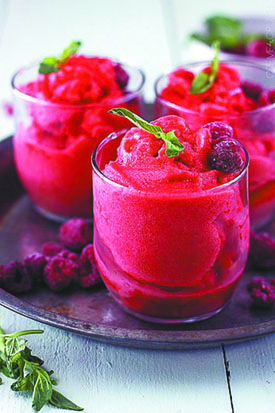 Raspberry Sorbet with Lime Basil
(credit to Laura Fornari, executive sous chef at DePauw University)
2 lbs. of raspberries, fresh or frozen

 

1 Tablespoon lime juice

  

1 cup sugar
1 cup water
1/2 cup lime basil, finely chopped
(Lime basil is available in Asian stores. Regular basil and a 1/2  teaspoon lime zest cant be substituted.)
---
Make a simple syrup by bringing the sugar and water to a boil in a small saucepan. Then remove from heat. Place raspberries and lime juice in a food processor and blend until smooth. Strain mixture, pressing down on the solids. Should make about 2 1/3 cups puree. Discard solids. Whisk together syrup, puree and lime basil. Cover and refrigerate until cold (about an hour) Whisk again to combine. Then freeze for at least three hours. Will keep up to one month. Garnish with a mint leaf when serving.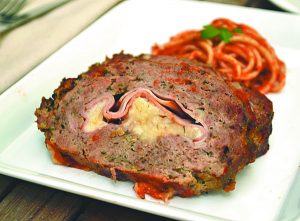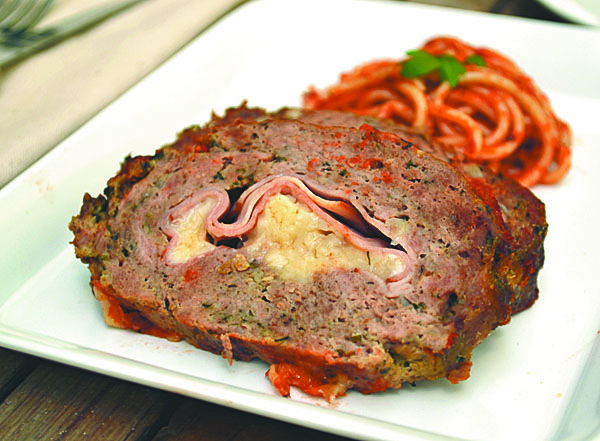 Meatloaf Roll
1 1/2 pounds lean ground beef
1 cup medium cracker crumbs
2 beaten eggs
1 8-ounce can seasoned tomato sauce
1/2 cup finely chopped onion
2 tablespoons chopped red or green bell pepper
1 1/2 teaspoon salt
1 medium bay leaf, crushed
Dash thyme
Dash marjoram
6 to 8 slices packaged deli ham (or chicken)
6 to 8 slices of Swiss or mozzarella cheese
---
Combine the first 10 ingredients in a bowl and mix well. Place mixture on a flat surface and flatten out into a rectangle. One side should be the same length as the baking pan. After patting out the meat mixture, lay the deli meat slices on top, leaving a space on the short sides of the rectangle. Now lay the cheese on top of the meat. Starting at one of the short sides of the rectangle, roll the meatloaf like you would a jelly-roll. Place in the baking dish, seam side down. Bake at 350 degrees for about an hour. When down, remove to serving platter. Allow to set for a few minutes before cutting. You may garnish the top of the loaf with tomato sauce if you like.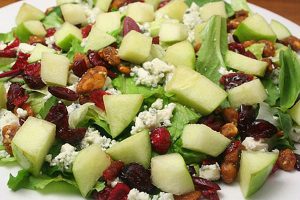 Apple Salad with Cinnamon Cider Vinaigrette
2 large Granny Smith apples (or another tart salad apple) chopped
1/2 cup dried cranberries
2 cups chopped romaine lettuce and/or spinach leaves
1 large sweet onion, finely chopped
3/4 cup blue cheese crumbles
1/4 cup toasted pecans
Combine items in mixing bowl. Coat with vinaigrette and serve.
---
Vinaigrette:
1/2 cup apple cider vinegar
1 teaspoon ground cinnamon
1/2 teaspoon ground nutmeg
1/ 2 teaspoon salt
2 Tablespoons fresh ground ginger
1/2 cup olive oil
1/2 cup orange juice
1 Tablespoon dark brown sugar
Whisk together all ingredients.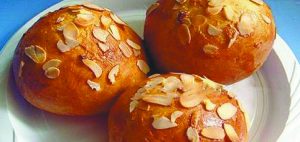 Almond Buns
1 cake compressed yeast
1/4 C water
1 Tbl. sugar
1 C. scalded milk
1 C. flour
3 egg yolks
1/4 C. melted butter
1/4 C. sugar
1 tsp. sat
1/2 lb. chopped blanched almonds (reserve 1/4 C finely chopped to be used for the top of the buns)
3 C. flour
1 Tbl. milk
---
Dissolve yeast with water and 1 Tbl. sugar. Scald milk, when tepid add the yeast mixture. Add the 1 C. flour and mix well. Set in warm place to rise. Then add 2 egg yolks, melted butter, sugar, salt and almonds. Gradually add the 3 C. of flour. This should be enough to make a stiff dough. Allow dough to rise, doubling in size. Shape the dough into small rounds and place about 1 1/2 inches apart on well greased baking pans. Brush the tops with the 1 remaining egg yolk mixed with the TBL of milk. Sprinkle with chopped almonds. Allow the buns to rise until light. Bake at 350 degrees for 20 – 30 minutes.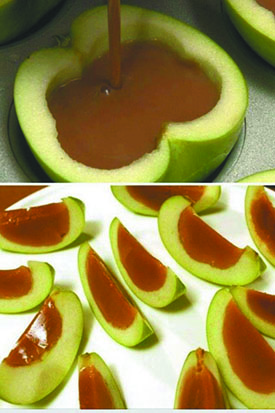 Caramel Apple Slices
3 Granny Smith apples halved and cored
1 (14 ounce) bag caramel candies
2 Tablespoons milk
---
Place unwrapped candies and milk in a microwavable bowl. Heat on high for about2 minutes, stirring once during cooking time. Place apple halves in a muffin tin to balance them. Then pour melted caramels in the center. Cool in refrigerator until set. Then slice the halves into wedges. Can garnish with powdered sugar or crushed nuts.
[Ella can be contacted at ellaweeza@yahoo.com or Ella at 50+ Lifestyles, 804 W Lombard Street, Davenport, IA, 52804]