September 10, 2009
Figge Art Museum Figure Drawing Class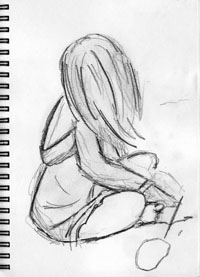 The Figge Art Museum in downtown Davenport has just released its fall adult class schedule. Seven different multi-week classes and one-day workshops will be offered from September through December. The courses include watercolor, jewelry making, fiber sculpture and other creative arts. Registration fees and materials vary by class. For complete class information, visit www.figgeart.org or call the museum at (563) 326-7804 extension 2045.
The Figge's popular figure drawing class is back again this fall and runs from September through December. Classes meet on Thursday evenings from 6:00 pm – 8:30 pm for 12 weeks at the Figge and seniors and students receive a discount. All Figge adult art classes are open to high school, college students and adults.
Drawing from observation, rather than photographs or memory, is essential for beginning students to improve their drawing skills. Advanced students and professional artists also benefit from observational drawing. The unclothed human body is among the most difficult subjects to draw, making this figure drawing class a challenge for even the most experienced artists and a valuable tool for beginners.
A facilitator leads the figure drawing class, allowing students to draw without direct instruction. The model typically presents several poses, including gestures, short poses and long poses. Both male and female models will be contracted, giving students a range of subjects to draw.
Students bring their own drawing materials to this class, eliminating a separate materials fee. The Figge does provide easels, drawing boards and chairs. A newsprint pad is recommended for gesture drawings that last one to five minutes and short poses that are ten to fifteen minutes long. Many students prefer to bring higher quality paper for longer poses that typically last 20 to 30 minutes. Any dry media can be used including pencils, charcoal and pastel. Water-based media including ink, watercolor, gouache and acrylic may also be used. Solvents and fixatives are not allowed in the studio to help maintain a pleasant work environment for all students.
Some students are unable to attend every Thursday night class during the 12-week course. To meet the needs of our students, the Figge is piloting a punch card system for the figure drawing class. Students may attend any three classes during the course and can purchase additional punch cards. The adult punch card is $30, $25 for seniors 50+ and only $20 for full time college and high school students. Please show valid ID card at time of registration to receive the student discount. Punch cards must be purchased from the education department in advance of the first class you attend. Call (563) 326-7804 extension 2045 to purchase your punch card or to register for the figure drawing course. Be sure to mention you heard about this class from reading 50+!
Tags: Adult Art Classes, Adult Class Schedule, Creative Arts, Direct Instruction, Drawing Boards, Drawing From Observation, Drawing Materials, Female Models, Fiber Sculpture, Fifteen Minutes, Figge Art Museum, Gesture Drawings, Gouache, Materials Fee, Newsprint, Professional Artists, Quality Paper, Registration Fees, Valuable Tool, Watercolor
Trackback URL: https://www.50pluslife.com/2009/09/10/figge-art-museum-figure-drawing-class/trackback/