September 10, 2009
In Memory of Jim, my husband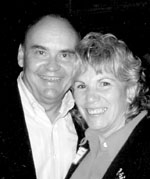 By Eloise Graham
Jim had really enjoyed doing this article. He was a great communicator. Even after his stroke in 2006, he still had a great sense of humor and loved to tell a story or spin a yarn. I now have the honor/challenge to carry on.
Below is a letter that my family and I received. It is from a co-worker who worked with Jim 20 years ago when we lived in Wausau, WI.
Dear Eloise, Jane, Jum and Jennifer,
It is with great sadness that I write this letter. It is so hard for me to think that Jim is no longer with us, and yet as I write this, I think about all the wonderful times we shared. The parties, the bowling, the golfing, the work, yes all of them seemed so wonderful because of Jim. It seemed that no matter what we did, it was always more memorable because of Jim.

Even though I have two brothers, Jim was like a brother to me as well. Someone who I could talk to about anything, someone, if I could, I would do anything for. And as I got to know Jim, I got to know all of you, especially Eloise and Jennifer. It seems like
yesterday that Jennifer was starting high school, and now she is married with children of her own.

Although there are many things about Jim I remember, there are two things that will stick with me. He always tried so hard to make everyone feel that they were always
welcome and always a part of the group, whether he had just met you or had known you forever.

He was also, possibly, the greatest storyteller ever. He was a good yarn spinner. Maybe he just attracted people larger than life, but the stories always made me laugh.

When I think of Jim now, that is what I do, I smile; the thought of him being my friend makes me happy, even on these sad days. These days will pass, and I will cherish the many wonderful happy memories I have of Jim, the man called "LRP" by many of us, friend by all of us.

I wish there was some way I could ease the pain and sense of loss you are experiencing at this time. Do what I do and just remember your favorite story he would tell. That's what makes me smile.

I regret not being able to attend his service. I am sure it will be wonderful and more than he would have wanted, but less than a man of his character deserved.

All my best
Pat
Now the Boy Scout Law.
Jim, an Eagle Scout, had been mentioning the 12 points of the Boy Scout Law, a different point each month. In February 2010, the Boy Scouts of America will be 100 years old. Jim started the points of the law last March, a new point each month until all 12 are listed. The twelfth point will be listed in February on the 100 year celebration of scouting.
Law number 7: A Scout is obedient. "He obeys his parents, Scoutmaster, Patrol Leader, and all other duly constituted authorities." He does what is asked of him without complaining, conniving to get out of it, or cutting corners of the task at hand.
(Jim had already started his September article in July. I ran across this saved on the computer to be in the September issue. – Eloise)
" 'A Scout is obedient'. After George Washington had successfully defeated the British Army an officer asked his mother how she had managed to raise so brilliant a son. You know Washington's character: his fame for truth, his honor, his bravery. But his mother's reply to the question touched none of these qualities. She answered, 'I taught him to obey!'

This was not only the case with Washington. The great men of history learned to obey when they were young. They learned to discipline themselves before they could give orders to others. Obedience is a humbling quality. It shows self-control, strength of character. Great men know how to take orders. Weaklings whine and grumble about them.


(from the 1948 "Handbook for Boys" from the Boy Scouts of America)

As John Wayne said, 'Start at home. Practice it in your family. Enlarge it in your friends. Share it with humanity'."
Trustworthy, Loyal, Helpful, Friendly, Courteous, Kind, Obedient……
Jim would often close by saying, "Believe it! Live it!" He had believed it and he did live it.
Filed Under: Community, Personal Growth
Tags: Bowling, Co Worker, Dear Eloise, Golfing, Great Communicator, Happy Memories, Jum, Larger Than Life, Many Things, Married With Children, Memory, Sad Days, Sadness, Sense Of Humor, Sense Of Loss, Storyteller, Stroke, Two Brothers, Wausau Wi, Yarn
Trackback URL: https://www.50pluslife.com/2009/09/10/in-memory-of-jim-my-husband/trackback/