September 10, 2009
Max's Musings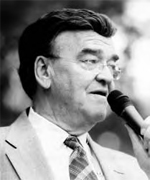 By Max Molleston
By the time our calendars turn to September, we continue some kind of transition; easiest to point to the Fall season, approaching on a certain date. Our midwest change is nature, and it contains hallmarks of happenings in our lives – kids and school, a constant with a week or two variation. Football at all levels, touch and tackle, means travel and
interest and spending. Some spent for ice cream, some for hundreds of dollars in tickets to big college games on the weekend. September carts us away from much of the carefree times, to more purpose, with the exception of planned foolishness. We aim to accomplish some goals we set for business, family and other challenges to the way we want to live.
Life gives us more transitions now than it used to. Births and deaths may be more of a surprise than in our pasts. Cruel surprises and bountiful surprises come one after another but not to all of us, and some may never grace our doorstep. I looked into Chinese poetry for some ideas about transitions: China, in tradition – not transition – for centuries, allowing dynasty changes every few hundred years, maybe.
Wu Sheng is a native Taiwan poet, and we have shared his work in a column once, over the years. Here he is plain about a transition that is not working. Well, maybe not.
Grandma's Not a Poet
Grandma is illiterate
She's not a poet
She knows nothing of poetic images
Working hard all her life
All she knows is the silent offering of love
Grandma has rough hands and big feet
She's not a poet
She knows nothing of metaphor
In her simple life
All she knows is simple life
All she knows is simple talk
Grandma is busy and hard-working
She's not a poet
She knows nothing of poetic moods
In her bitter life
All she has known is labor and sweat
Nourishing the fields with every drop
Children, have you read
Each and every one of Grandma's footprints in the
Soil? – – unpoetic Grandma
She is the real poet.
What did we learn from our grandparents, if we had the luxury of their lives mingling with ours over a longer time, in clarity and confusion? For that matter, what do or what will those of us in the +50 group have to teach our grandchildren? Early last month I had the opportunity to meet up with my long-time friend and poet, Ted Kooser, in an event held in his honor in the town where we grew up, Ames, Iowa. Ted is as active on the guest poet circuit as people want him to be. As a former United States Poet Laureate, he is in demand. Ted also teaches at the University of Nebraska at Lincoln, in some elevated fashion based on his achievement in poetry. He does teach classes in the writing of Memoirs.
Among the books Ted brought for sale at the event was one in prose. It is his best recollection of his mother's side of his family, the Mosers of, in and near Guttenberg, Iowa. Those of us who marvel at our ability to recall several events as children and younger adults about our mom and dad and, in this case Ted's mom's people, need to get them in writing or on some kind of memory tapes. And, to do this, all of us need help to organize. For this audience in the greater Quad Cities, I can recommend a phone
number – 563-324-1410. It gets you to a listening device Sunday, Monday and Tuesday, and to a real voice answering your call Wednesday through Saturday. It is the Midwest Writing Center in Davenport, Iowa at 225 East 2nd Street, as part of the Arts Center there. Ted Kooser's ability to recall and identify his folks and rooms and locations in detail is what you can do if you get some knowledge about how it's done. As time passes in our lives, so does memory of some details of our family's past.
We all have a richness that is nestled in some areas of our lives as they interplayed with relatives and friends. Here's an idea of how quickly you should get about this process of remembering and getting it on paper or some kind of remembering audio machine. As the leaves turn to tan and brown and head to the ground, so do some of those memories you
cherished. Get started! We will return to see if action is a part of your memories of a past that, for some, is as fresh as yesterday.
Filed Under: News
Tags: Births And Deaths, Bitter Life, Business Family, Carefree Times, Chinese Poetry, College Games, Doorstep, Dynasty, Foolishness, Grandma, Hallmarks, Hundred Years, Luxur, Metaphor, Moods, Native Taiwan, Poet, Poetic Images, Rough Hands, Simple Life
Trackback URL: https://www.50pluslife.com/2009/09/10/max%e2%80%99s-musings-3/trackback/