September 10, 2009
New Kingdom Trailriders Celebrating 25 Years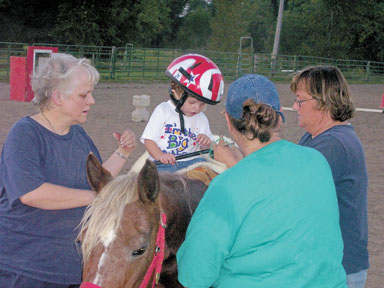 New Kingdom Trailriders is celebrating its 25th year of offering therapeutic horseback riding to specially challenged individuals in the Quad Cities and surrounding communities. The non-profit organization is operated mainly by volunteers and holds riding sessions from April – October. Through the use of horses and volunteers, approximately 66 riders participate in therapeutic recreational, competitive and educational opportunities and experience physical, mental, and social development. Rider disabilities include Multiple Sclerosis, Spina Bifida, Cerebral Palsy, Down Syndrome, autism, stroke, ADD, injury, hearing/speech impairment, mental, learning or behavioral disorders and many others. Our program's financial support comes primarily from private donations and some local grants. We do not receive any type of federal, state funding or health insurance. Anyone interested in getting involved with our organization as a rider, volunteer or donor, can visit our website at www.NKTriders.org.
New Kingdom Knights
Knight: A person who is honorably recognized for personal merit and services rendered and bound to chivalrous conduct.
Who can be a Knight for New Kingdom Trailriders?
Anyone! Individuals, families, groups, organizations, schools, churches, friends, co-workers, office, business, special interest groups…. EVERYONE CAN!
WHAT can I do to raise funds?
ANYTHING YOU WISH! BE CREATIVE! Hold a yard sale, bake sale, lemon-aid stand, spaghetti/taco dinner, trivia night, just ask friends and family for a donation, do a neighborhood walk, church fun day, car wash, dog wash, root beer floats, cute pet contest, wear jeans day – even works for churches!, bingo, raffle, silent auction, fund drive, Olympics day, special event, baseball game, concession stand, etc. The choice and FUN is all yours. Have a great time while doing a great thing!
Can I raise funds online?
You bet! NKT is registered on eBay Giving Works. You can conduct an Online Thrift Store, Virtual Yard Sale, Have eBay sell your goods and donate the proceeds, tell your friends to do the same! NKT is also set up on JustGive.org and donors can go on www.NKTriders.org and set up a donation by credit/debit card and even choose to set up a monthly contribution.
What do I need to get started?
Motivation and a creative idea, that's it! Put your idea down on paper; determine the time frame and what you need to achieve your goals. Then start your work as a Knight for New Kingdom Trailriders. No special skills required, just a willingness to do a little work for a whole lot of benefit!
When can I get started?
TODAY! You can do this program anytime in the year that works for you.
What are you waiting for?
We can't wait to hear about your event and how much fun you are going to have with it. We are thankful you have chosen to support NKT and our riders are grateful you are willing to help raise money to continue our very important mission!
Filed Under: Community
Tags: Concession Stand, Ebay, Families Groups, Individuals Families, Lemon Aid, Online Thrift Store, Personal Merit, Pet Contest, Private Donations, Quad Cities, Root Beer, Silent Auction, Special Interest Groups, Speech Impairment, Taco Dinner, Therapeutic Horseback, Trailriders, Trivia Night, Wear Jeans, Yard Sale
Trackback URL: https://www.50pluslife.com/2009/09/10/new-kingdom-trailriders-celebrating-25-years/trackback/