September 10, 2009
Remembering Jim Graham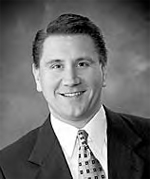 David W. Deuth, CFSP
President, Weerts Funeral Home
The first time I visited with Jim Graham, he was wearing a skirt. It was a few years ago now. Blarney Bash. Rogalski Center. Arriving on the St. Ambrose University campus, the haunting drone of the bagpipe could be heard through the crisp March air.
Approaching the entrance to the Rogalski Center, I recognized the piper – it was Derek Grant, a native of Scotland, dressed in his green tartan kilt and full Irish regalia. I gave him a wink as we passed by, thanking him for the authentic touch he added to the event.
My mom had helped on a Blarney Bash committee that year and became well acquainted with Eloise Graham and her husband, Jim. Meandering through the ballroom at the Bash, we found the four of them – my parents and the Graham's – visiting. Eloise was outfitted in a grand evening gown, Jim in a green tartan kilt and white knee-high socks. Sporting a green tie, I thought I had dressed for the occasion; standing next to Jim, I realized I was a bit under-Irish.
Just last year, I learned from Russ Myers that Jim and Eloise were going to acquire his 50+ Lifestyles publication. Although I had written regular columns for Russ for several years, I wasn't sure whether the Graham's would want me to continue. Before I knew it, Jim had sent me a welcoming email announcing their purchase of the publication from Russ and requesting my continued monthly writings. I was honored to be asked, pleased to oblige. That was a year ago.
Like everyone else in our community, I couldn't believe what I was hearing when I learned that Jim had died; he had emailed me just days before, reminding me, as he did each month, when my 50+ Lifestyles article was due. Practically speaking, he could have simply sent a canned message each month – "Dave, please have your article in by the 15th."
But Jim wasn't like that. He'd always include a short note that was personal, thoughtful and meaningful.
Discussing funeral arrangements with Eloise and her family, I began to hear some phrases that, I've learned, are well-known to others as "Jim'isms." Things like, "I was a young man when we started this"…"If I had any money, I'd leave the country"…and "This has all the earmarks of a fiasco." We compiled a Top Ten List of Jim'isms for Jim's memorial folder; it was difficult to narrow it down to just ten.
When Jim emailed to remind me about the March article due date this year, he thanked me for my February article, recalling Abraham Lincoln's 200th birthday. He took the time to share a brief recollection of a family trip to Springfield to visit the president's burial site and museum…and how much the article had meant to him. That email, like every other I received from him, concluded the same way: "Let me know if there's anything I can do to help you."
I also learned from the family that Jim really enjoyed root beer. As the visitation concluded at the funeral home that Sunday afternoon, I brought three bottles of root beer into the visitation room. Gathering Eloise and her family in a big circle, I handed out small cups, filled them with root beer; and we shared in a "root beer toast" to Jim, recalling everything from favorite grandkids' memories to family camping trips that had "all the earmarks of a fiasco" and still more favorite Jim'isms.
In his quiet and most unassuming way, Jim left his mark on the Quad Cities. Arriving here in 1996 as the General Manager of local NBC affiliate, KWQC-TV6, Jim, according to his colleagues, had a management style that transformed co-workers into "family." Ever more comfortable behind the scenes than in the spotlight, he enjoyed rolling up his sleeves and pitching in on any task.
Retiring from broadcasting in 2007, Jim never stopped giving back. Serving on the boards of 22 different organizations and charities, he continued to place a high priority on meaningful community involvement. Making a difference, avoiding the spotlight – that was Jim Graham.
On Wednesday, July 29th, Jim enjoyed a boat ride on the river with two of his granddaughters followed by a movie at the IMAX. It was a beautiful afternoon. Pizza and root beer for supper.
By day's end, he found peace with God.
I asked Derek Grant to play the bagpipes at Jim's funeral service. He wore his green tartan kilt.
You'll never be forgotten, Jim.
We will remember well.
David W. Deuth, CFSP, is the owner of Weerts Funeral Home in Davenport. He can be reached at 563.355.4433 or by email at Dave@WeertsFH.com.
Filed Under: Community, Personal Growth
Tags: Authentic Touch, Bagpipe, Blarney Bash, Canned Message, Cfsp, Drone, Eloise, Email, Funeral Arrangement, Grand Evening, Knee High Socks, Lifestyles, Piper, Regalia, Russ Myers, St Ambrose University, Tartan Kilt, Wearing A Skirt, Weerts Funeral Home, White Knee High Socks, Wink
Trackback URL: https://www.50pluslife.com/2009/09/10/remembering-jim-graham/trackback/