September 10, 2009
Say "Boo" to the Flu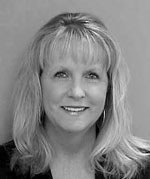 By Carla Popp, RN, BSN, MBA
Trinity VNHA
Director, Private Duty & Community Services
As we near the end of summer, many of us are beginning to shift our thoughts to the upcoming fall season and all the changes it brings. One of the major focuses for Trinity VNHA will be the implementation of our popular community flu clinics. This year we have decided to bring back the bi-state drive-thru flu clinics once again by offering one in Davenport and one in Moline. The Flu Crew staff is very excited about this as they all enjoy working the drive-thru flu clinics.
Another important thing to note about this year's flu shot season is the situation with the H1N1 flu virus. At this time the Centers for Disease Control (CDC) indicates that the H1N1 situation in Iowa and Illinois is "sporadic" as far as spread. A vaccination against H1N1 is expected to be available this fall and some clinical trials are currently underway. There has not been specific communication from the CDC as to how the supply of the H1N1 vaccine will be distributed. Until there is more definitive information available about the H1N1 vaccine, Trinity VNHA will move forward as planned with all scheduled community flu clinics. For more detailed information on H1N1, visit the CDC website at http://www.cdc.gov/h1n1flu/.
In preparation for the upcoming seasonal influenza season, it is important to remember the basics when considering flu prevention. Taking steps to ensure that we wash our hands is the single most important step to prevention of diseases that are spread by contact. Proper nutrition and practicing good health habits are also keys to keeping your immune system strong. Simple things like getting enough sleep can make a big difference for those of us who are around other people in our daily lives. Getting a flu shot is another great way to provide extra protection against the flu because it gives our immune systems a boost by helping to build immunity.
For your convenience, beginning on October 1st we will be offering a walk-in flu clinic at our office in Moline Monday through Friday from 8am to 5pm through Thanksgiving. Flu Mist is also available in the VNHA office for $40. Flu Mist is nasal flu vaccines that is approved for people between 5 and 49 years old and are healthy. Trinity VNHA provides flu shots and Flu Mist to children ages 9 and older.
For a new experience consider coming to our drive-thru flu clinics in October. Our Flu Crew staff will be conducting these clinics on Saturday, October 3rd from 9am to noon at Trinity Lutheran Church (1122 W. Central Park Ave., Davenport) and on Sunday, October 11th from 9am to noon at the VNHA office (106 19th Ave., Moline). Just be prepared to drive thru and stay in your car and we do the rest. The flu shots are $35 cash/check OR no charge to those with insurance (including Medicare). We also have pneumonia shots available for $50 cash/check and will bill insurance or Medicare.
Filed Under: Health & Wellness
Tags: 1s, Cdc, Cdc Website, Centers For Disease Control, Centers For Disease Control Cdc, Drive Thru, Flu Clinics, Flu Prevention, Flu Season, Flu Shot, Flu Virus, Good Health Habits, Immune Systems, Influenza Season, More Detailed Information, Popp, Private Duty, Proper Nutrition, Rn Bsn, Taking Steps
Trackback URL: https://www.50pluslife.com/2009/09/10/say-%e2%80%9cboo%e2%80%9d-to-the-flu/trackback/