September 10, 2009
Special events fill Niabi Zoo's September calendar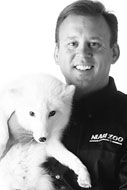 By Tom Stalf
Director, Niabi Zoo
Niabi Zoo is closing for the season September 27, but not before some of our most popular events take place. Mark your calendars for these upcoming events and take advantage of free admission every Friday in September. Be sure to get to the zoo before we close early to make improvements that benefit our animals and guests. Niabi Zoo is scheduled to reopen in May for another exciting season!
Breakfast with the elephants – Saturday, September 12
The day begins early at Niabi Zoo! Join us for a light continental breakfast at 8:30 and peek behind the scenes at the morning routine of some of your favorite Niabi animals. Your breakfast will be accompanied by a program presented by one of our animal experts. And when breakfast is over….you'll be among the first to enjoy the day throughout the zoo. Preregistration is required. Cost is $10 for members and $12 for non-members. Call (309) 799-3482 ext. 235 to register.
Niabi Zoo Run – Saturday, September 19
Come to the zoo to participate or just watch as runners of all ages compete. Races include a 1-mile family run at 9:00 a.m., a 1/4-mile kids' run at 9:30 a.m. and a 75-yard toddler dash at 9:45 a.m. All children participating will receive a zoo prize and medal. Participants of all ages can enjoy healthy snacks and drinks. The school that refers the most participants will receive a free outreach education program by a Niabi Zoo zookeeper. Registration must be postmarked by September 12. For questions, call (309) 799-3482 ext. 225.
Fall Finale – Saturday and Sunday, September 26 and 27
Early closure has changed the format of Boo at the Zoo, typically held at Halloween. This year, we're hosting a Fall Finale event, sponsored by WQAD. Children can still visit vendor booths for activities and prizes and some very special guests will be at the zoo this weekend. The Marvel Heroes, including Spider-Man, will be appearing at 11:00 a.m. and 2:00 p.m. both days to present their "Operation Green" show, sponsored by the Alcoa Foundation. The show focuses on the environment and lasts 30-45 minutes followed by a meet and greet with some of the characters. Advance tickets are available at Niabi Zoo and a free shuttle will be available from an off-site parking location.
Zoofari: Under Construction – Saturday, October 3
Our biggest fundraiser of the year will be hosted at Niabi Zoo, just before the bulldozers start working. The event starts at 6:00 p.m. and ends at 10:00 p.m. and features food, beverages, animal encounters, music and "buy it now" auction items. Cost has been reduced this year to $100 and tickets sell fast. This event is open to members and non-members. Reserve your spot today by calling (309) 799-3482 ext. 225.
As our season winds down, I'd like to thank you for supporting Niabi Zoo in 2009 and invite you to attend these special events. We look forward to showing you some new improvements when we open again in May 2010.
Tags: Animal Experts, Boo At The Zoo, Elephants, Fall Finale, Free Admission, Free Outreach, Healthy Snacks, Light Continental Breakfast, Marvel Heroes, Mile Kids, Morning Routine, Niabi Zoo, Outreach Education Program, Peek, Preregistration, Saturday And Sunday, September Calendar, Special Guests, Spider Man, Vendor Booths
Trackback URL: https://www.50pluslife.com/2009/09/10/special-events-fill-niabi-zoo%e2%80%99s-september-calendar/trackback/