September 10, 2009
The Lesson is… pay attention in class!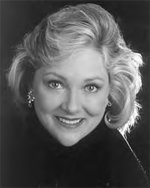 By Becky Lee Hinton
Director of Marketing
The Fountains Senior Living Community
Let's face it. We are all guilty. We have all, at one time or another, been sitting in a classroom or lecture hall when our minds drift away from the subject at hand to other things. As I recall, I would sometimes daydream about what to wear on my date on Friday night, whether or not I fed my cat, what to sing at the next audition or the Hershey bar in the vending machine. It's human nature to occasionally lose focus.
It has become a tradition for us to treat our Miss Iowa's Outstanding Teen to a day of fun at the theme park of her choice before returning home from the Miss America's Outstanding Teen competition in Orlando, Florida. This year I treated Jessica Baker, Miss Iowa's Outstanding Teen 2009, Anne Michael Langguth, Miss Iowa 2009, my 10 year old daughter, Maggie and my parents to a day at Sea World. Of course, we rode the exhilarating roller coasters, saw several wonderful shows and ate lunch underwater with the sharks. But the animals were the highlight for all of us.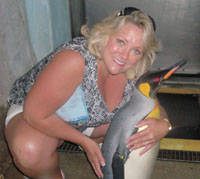 Our favorite place was The Penguin Encounter. At first the cool air conditioning offered a welcomed respite from the 95+ degree heat and humidity of the tropical Florida climate, and then we were fortunate to be present for an educational presentation. There was the penguin keeper, Tiffany with a microphone on the inside of the enclosure and another employee on the outside with us who asked Tiffany our questions. We listened intently for the 20 minutes presentation, and then Tiffany announced that there would be a special prize for the person who could answer a question. Looking at the sea of hundreds of people in the area between me and the employee, I didn't have much hope of being the first to catch her eye. The question was about the adelie penguins. What is the behavior where they swim very fast and leap out of the water to breathe then dive back in called? The correct answer is "porpoising." I'm certain that I resembled Arnold Horshack from "Welcome Back, Kotter" raising my hand as high as I could and jumping up and down. The silliness paid off! I was expecting a Shamu beach towel or a cool Sea World tee shirt, but my prize was way better than that! They escorted us through a door with a sign clearly stating employees only, and led us into the area that housed the keeper's office, the infirmary, the nursery and the door to the penguin enclosure. My prize was an up close encounter with a king penguin! Let me tell you, that was so much better than a beach towel or a tee shirt!
As a former animal keeper at Niabi Zoo, I found our visit very, very fascinating. Before we stepped through the first door, we each had to disinfect our shoes. The first animals we saw were in the nursery, but they were not babies. These birds were quite elderly and needed specialized care. I found it very interesting that they kept younger birds in with the older ones to keep them company. I read the dry-erase board where the keepers keep notes about which birds ate how much of what kind of fish.
Then we entered the penguin enclosure itself. We disinfected our shoes for a second time. It was very cold and actually snowing inside. There are 4 species of penguin that live together in that winter wonderland. We were welcomed by a cacophony of calls from the penguins. They are very curious birds, and one in particular is very comfortable around humans. He is a four year old male king penguin named Mack. Mack was quite content to be petted and hugged. He posed with each of us for photos. He was fascinated with our dangly, sparkly jewelry. His feathers were short and very compact and they felt smooth, and I was surprised that his body was warm when I hugged him.
So the lesson is this…ALWAYS pay attention in class!
Becky Lee Hinton is Director of Marketing at The Fountains Active Retirement Community in Bettendorf. Please call Becky at (563) 332-5775 to arrange you personal tour.
Filed Under: Community
Tags: Adelie Penguins, Becky Lee, Cool Air, Correct Answer, Daughter Maggie, Degree Heat, Educational Presentation, Favorite Place, Florida Climate, Hershey Bar, Jessica Baker, Langguth, Lecture Hall, Miss America, Miss Iowa, Penguin Encounter, Roller Coasters, Teen Competition, Tropical Florida, Vending Machine
Trackback URL: https://www.50pluslife.com/2009/09/10/the-lesson-is%e2%80%a6-pay-attention-in-class/trackback/