October 2, 2009
"The Best Things in Life aren't Things"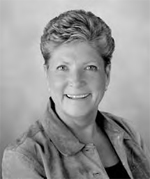 By Mary Schricker, SRES
Realtor – Ruhl&Ruhl Real Estate
Your lives have changed. The kids have moved away. The backyard, once a haven for barbecues and family activities, now seems to be a breeding ground for weeds and a source of many hours of back breaking work.
You want to move to something smaller with less maintenance. But the task seems overwhelming! The garage is full of unused pots and rusty tools. The basement has boxes and boxes of holiday decorations you no longer use. The kitchen still has the canning jars and equipment from those by gone garden days. The attic is full to the rafters with old furniture, toys, and stuff you just knew you would need again someday!!!
How do you get started on this ominous task of downsizing? I get asked this question often as I counsel clients on the housing options available to them. No one answer will serve everyone. As with any situation there are a number of variables that affect the process.
Motivation. If you are electing to downsize and have time on your side the task will be much easier and less stressful. I often work with 50s or 60s clients who opt to move to a more maintenance free setting where lawn care and snow removal are a part of the package. Their move is often perceived as an exciting new chapter in their lives. Sorting, tossing, and downsizing are a bit easier when sprinkled with the optimism of new adventures.
If the move is not an elective one, but a result of the death of a spouse, illness, or the realization that one can no longer function safely or adequately in their present environment, it can be very stressful. Going through a lifetime of possessions and making decisions about new housing under duress can be overwhelming to say the least. The bulk of the decision making in this situation often falls on other family members. The person who is moving sometimes feels they have lost control of the situation and become resentful of others who they feel are making decisions for them.
Time Line. I recently visited with an 80+ year old client who knows she will someday have to move from the home where she has lived for over 50 years. The accumulation of "stuff" is a bit overwhelming to her and she wasn't sure where to start. I told her to take a deep breath and relax. My advice to her was to first figure out where she would be going. I gave her a list of senior facilities to visit. Once she selects a new residence and sees the space she will have, it will be much easier to sort through her possessions. I encouraged her to take time this winter to go through all of her closets, and storage areas. In the spring she can move into her residence of choice, and then put her home on the market.
Again, when time lines are minimized and people have to move quickly decisions are made under duress and the stress level increases for all who are involved.
Physical Limitation. People may choose to move because the features of a home are not conducive to the aging process. A detached garage, upstairs bedroom, or basement laundry, can be difficult as we age and we develop certain physical limitations. Again, making the choice while we still can climb the stairs is so much wiser than waiting until we can no longer maneuver them. Moving to a ranch style, or one level home or apartment can make life much more convenient.
The key to downsizing is to sort through your belongings on a regular basis. Even if you are not thinking of moving in the very near future, go through your closets and storage areas and discard things you no longer need. The rule of thumb is, if you haven't worn it or used it in the last twelve months; you probably will not need it. Toss it!! Another good rule is if you bring something "in'" take something "out"! Removing clutter from rooms can add a calming effect and be much more relaxing than sitting in a room full of distractions.
When the inclement weather sets in and you are looking for something to do, start going through the basement and attic keeping in mind that, someday you will be moving. When that day comes you will so glad you already sorted and tossed!!!
After all' "The Best Things in Life aren't Things." – Art Buchwald
Filed Under: Community, Personal Growth, Retirement
Tags: Barbecues, Breeding Ground, Canning Jars, Death Of A Spouse, Downsizing, Duress, Holiday Decorations, Lawn Care, New Chapter, Old Furniture, Optimism, Possessions, Pots, Rafters, Realization, Rusty Tools, Snow Removal, Sres, Time On Your Side, Weeds
Trackback URL: https://www.50pluslife.com/2009/10/02/%e2%80%9cthe-best-things-in-life-aren%e2%80%99t-things%e2%80%9d/trackback/