October 2, 2009
A real-life article from WWII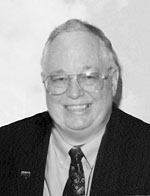 By Russ Myers
United States 2nd Armored Division
World War II Circa 1942-45
Private Heber L. McFall, Rock Island, IL
(This article is about a Private in the Army during WWII. Heber was with General Patton's 2nd Armored Division serving with his group as a Radio Operator. These are some of the happenings during the War that Heber went through)
A real-life article from WWII
(Note:My friend, Jim Graham had a real love for America! He would have enjoyed reading this article. He probably is….
This is a two-part article featuring my now deceased brother-in-law married to one of my five favorite sisters…they are all my favorites)
Almost Met My Maker…
"We had stopped in a grove of Evergreen trees. I was hunkered down in what I thought was a safe position when someone fell on top of me. I looked at my fellow soldier and found the reason he was in that position…a huge hole in his head and down through his torso…was he dead? I felt for a pulse…none. Then, I heard the German soldiers coming sticking their bayonets in the so called dead American soldiers to make sure they were done. I was quiet as a Church Mouse, not moving, hardly breathing when I sensed a bayonet moving my arm that had fallen on top of the dead GI. I let the arm just fall to the ground. The German soldier thinking I was dead, just went on by me. I had survived again!"
Pvt. Heber L. McFall, Radio Operator 2nd Armored Division.
The Happy War-child
"Happily, after surviving the German forest assault where we had to get out of our tanks to do hand-to-hand combat. German anti-tank devices were keeping us from taking our tanks inside the area where the Germans were waiting, So, often we had to make bunker-like shelters to keep the Germans from penetrating to our site. In some of our locations, often, you might see a small hand poking through one of the small holes in the bunker made of sandbags or dirt bags. This small hand belonged to a child left alone by the war and wanting a hand out of anything to eat or clothing. Many times one of us would place some rations in that hand, not knowing where it went or who it was. One such child became more than just a hand through the shelter. We bathed him, gave him clothes and shoes and lots of food. Probably, we saved his life!"
Pvt. Heber L. McFall, Radio Operator 2nd Armored Division.
Wrong Radio Message…
"As a Radio Operator aboard a 2nd Armored Division tank we were alerted that the Germans would try to intercept our messages and in very American-like voices give us orders we thought were from the Command. One such time, I received a message and it just did not seem right. The message told us to go to a certain location where it was safe to be with no German troops nearby. I forwarded a message to Command with my doubts about this message and sure enough the Command reported it was a fake message from the Germans and certainly NOT a safe place for General Patton to place his tanks. This was a trap! One more time I had been kept out of harms way!"
Pvt. Heber L. McFall, Radio Operator 2nd Armored Division.
Mom's white cloths…
"Each month I would send my mother most all my money from being in the Army. Mom also was making white cloths and giving them out to others as a token for their families as a little prayer cloth for soldiers in the war. I thought my mom was saving the money I sent to her, but she actually was donating it to the church!" Good place as any I guess and probably why I was so lucky to have survived several close encounters with the German Army!"
Pvt. Heber L. McFall, Radio Operator 2nd Armored Division.
Be careful of the latrines…
"It is common knowledge that the German Army did not like the Americans being in their homeland, but it was not our doing that caused Hitler to be so daring and murdering millions of civilians. One of the methods the Germans had to get rid of our Army was to set a trap or a bomb at the latrine. (commonly called the latrine but it was just an outdoor toilet). You had to be careful if you were to visit the latrine because you might blow your butt to high heaven!"
Pvt. Heber L. McFall, Radio Operator 2nd Armored Division.
A Mess at the Mess Hall…
"Being a part of General Patton's tank group certainly had its ups and downs. Mess Hall meals were great on Thanksgiving and Christmas. One day we were getting ready to eat at the Mess Hall when we heard Patton was going to join his men for dinner. Knowing this might be a real eye opener for the General, we decided to stick around and get a table where we could see the General up close. General Patton first visited the soda fountain instead of getting Kool aid. The General pressed the lever and got a disgusting cup of foam. The General showed it to the Lt. Col. his aid with much disapproval. Then it was on to the main course Patton got a tray and plateful of beef and rice. When he sat down and started to eat you could once again see a scowl on his face. Patton picked up the plate, put it on top of the Colonel's plate and they both marched out with the Col. carrying both plates. Soon, the Mess Hall meals improved, but not by very much because it was wartime and hard to make changes in the rations. Even for old "Hell on Wheels" Patton. "
"Our best meals was always breakfast because Cook Otto would whip up some of his special pancakes. Quickly, Otto would fill the griddle with pancake batter just the right size and then as he got to the end of the griddle the first pancakes he placed were ready to turn. They were perfectly cooked a nice brown color and tasted so good! Otto knew how to keep us happy with his pancakes.
Pvt. Heber L. McFall, Radio Operator 2nd Armored Division.
Filed Under: Featured, History
Tags: 2nd Armored Division, Bayonets, Church Mouse, Dead American Soldiers, Deceased Brother, Dirt Bags, Evergreen Trees, Fellow Soldier, Friend Jim, General Patton, German Forest, German Soldier, German Soldiers, Hand To Hand Combat, Life Article, Mcfall, Pulse None, Radio Operator, Russ Myers, War Child, World War Ii
Trackback URL: https://www.50pluslife.com/2009/10/02/a-real-life-article-from-wwii/trackback/