October 2, 2009
Eat within your Budget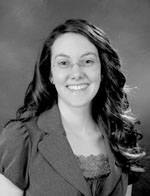 By Chrissy Mitzel, M.S., R.D., L.D.N.
Health Registered Dietician
(309) 793-0684
E-Mail: cmitzel@hy-vee.com
Private-label brands are an excellent way to save money and you're not sacrificing taste or quality.
Are you challenged weekly to make ends meet? It's a common problem today.  One of the places you can trim expenses is in the foods you eat.  According to the Food Marketing Institute, shoppers are following these trends.
Save money on eating out. Compared to one year ago, 55% of shoppers are spending less on dining out and 69% are choosing less expensive places to eat. Did you know that more home-cooked meals with the family has been correlated to better grades in school and fewer behavior problems?
Money-saving moves at your grocery store. Some shoppers are "trading down," meaning they are trying less expensive brands.  Private-label brands are an excellent way to save money and you're not sacrificing taste or quality.
Shop the ads. Be sure to check grocery store ads and prepare a menu that utilizes those foods that are on sale. The tip below shows you how to do that.
Other money-saving habits are to compare unit prices, make grocery lists, clip coupons and resist impulse buys.
At Hy-Vee, we have several tools available to help you stretch your food dollars.
The HealthyBites Weekly Menu is written using sale items for the week.  This menu provides seven dinner suggestions, five new recipes and a shopping list.  It's available either in your store or online at www.hy-vee.com.
To take the menu idea a step further, Hy-Vee offers a weekly Budget-Friendly Menu.  This is also available either in the store or online.  It offers five dinner meals that cost $2 to $3 per serving!
For even more ideas, check out 30 meals for $3 on www.hy-vee.com.
Some websites also have budget-friendly recipes online.  For starters, check out www.kraftfoods.com.
Hy-Vee has increased its online ads and it's worth checking out!  There are many more items in the online ad than appear in the print ad.  As you scroll through the ad, you can click on any item and it automatically appears on your shopping list.  How easy is that?
There are many coupon websites now available. Here are a few to check out:  www.couponbugs.com, www.couponsurfer.com, www.smartsource.com, www.redplum.com and www.coupons.com. Hy-Vee is happy to redeem your coupon, but some guidelines apply. Be sure to check out the policy on hy-vee.com.
Many of our stores offer cooking classes or demos in the aisles to show you how easy it is to cook at home.
Hopefully you've gotten a few new money-saving ideas. If you need more help, be sure to visit your Hy-Vee dietitian. Check out this great recipe example from a HealthyBites Weekly Menu – perfect for cool fall nights!
Cajun Pot Roast with Sweet Peppers
Serves 9 
All you need:
1 2- to 2 1⁄2-pound boneless beef chuck (pot) roast
1 tbsp salt-free Cajun seasoning
1⁄2 tsp bottled hot pepper sauce
1/8 tsp ground black pepper
1 (14 1⁄2 ounce) can low-sodium diced tomatoes
1 medium green sweet pepper, cut into strips
1 medium red sweet pepper, cut into strips
1 medium yellow sweet pepper, cut into strips
Cracked black pepper, optional 
All you do:
Trim fat from meat. Sprinkle Cajun seasoning evenly over meat; rub in with your fingers. If necessary, cut meat to fit into a 3 1⁄2- or 4-quart slow cooker. Place meat in slow cooker. Add hot pepper sauce and 1/8 tsp black pepper. Pour undrained tomatoes over meat in slow cooker.
Cover and cook on low-heat setting for 8 to 10 hours or on high-heat setting for 4 to 5 hours, adding pepper strips for the last 30 minutes of cooking.
Transfer meat to a cutting board. Slice meat and transfer to a serving platter. Drain vegetables, discarding cooking liquid. Serve meat with vegetables. If desired, sprinkle individual servings with cracked black pepper.
Nutrition Facts per serving: 174 calories, 5 g fat, 2 g saturated fat, 67 mg cholesterol, 86 mg sodium, 6 g carbohydrate, 2 g fiber, 25 g protein.  
Source: www.bhg.com
This information is not intended as medical advice. Please consult a medical professional for individual advice.
Filed Under: Finance, Health & Wellness
Tags: Behavior Problems, Budget Recipes, Chrissy, Clip Coupons, Dinner Meals, Dinner Suggestions, E Mail, Food Dollars, Food Marketing Institute, Grocery Lists, Grocery Store Ads, Home Cooked Meals, Hy Vee, Impulse, Mitzel, Onli, Private Label Brands, Quality Shop, Shoppers, Shopping List, Starters
Trackback URL: https://www.50pluslife.com/2009/10/02/eat-within-your-budget/trackback/