October 2, 2009
Fall Housecleaning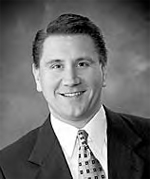 David W. Deuth, CFSP
President, Weerts Funeral Home
My mom likes a clean house.
As kids, my brother and I learned early on that the chores had to be done every Saturday morning if we were to have any hope whatsoever of hanging out with our friends later in the day. And if the whole family went out of town for the weekend, everything was to be clean and in its proper place before we could leave.
Vacation? We started cleaning the night before we left.
Well, I must admit that this housecleaning concept made very little sense to me as a kid. As long as the house was still there when we got back, I reasoned, we'd be fine. After all, I knew where all of MY things were; and if everyone else in the family was on top of their game, we could all pick up where we left off once we got home.
And although I didn't fully appreciate it at the time, I must also admit that, as an adult and as a parent, I've grown to realize the merit in mom's housecleaning logic. It's no fun to go away and have a good time…only to dread coming home to a bunch of work because the house wasn't left in good order.
The same may be said for our legal and financial "household" as well. It's good to tidy things up every once in awhile so everything is in its place when we need it. Opinions will vary as to how often one should "clean house" – yet most would agree that if you haven't done so in the past five years, you're overdue for a good Fall Cleaning.
Here's a good list to get you started:
Review/Establish A Will
Your Will determines what becomes of your property and possessions upon your death. Marriage, divorce, death of a spouse and/or birth of a child may have significant bearing on your preferences in your Will.
Review/Establish A Living Will/Advance Directives
Living Wills and Advance Directives inform your family and the medical community how you wish to be treated if you cannot make critical medical decisions for yourself.
Review/Establish Power of Attorney Documents.
Power of Attorney documents assign the person(s) of your choosing the authority to act on your behalf if you are unable to do so yourself. Powers of Attorney may be limited to specific items or general in nature.
NOTE: The above three topics are extremely important! Proper legal guidance is critical to ensure that these vital documents are properly prepared to carry out your every intention.
Review Life Insurance Documents.
Do your policy benefits reflect your current life insurance needs? Are your listed beneficiary(ies) still in keeping with your wishes? Marriage, divorce, death of a spouse and/or birth of a child may have significant bearing on your life insurance coverage and your beneficiary selections. Contact your insurance agent for options and guidance.
Titled Property.
Are the proper names on the titles and/or deeds to your property? Marriage, divorce and/or death of a spouse may suggest the need to re-register titles and/or deeds.
Funeral Plans.
Many have established plans with a funeral home that outline their intentions for funeral arrangements. If you have plans on file with a funeral home and haven't reviewed them in the past several years, it's a good idea to make certain that the information on record is still accurate. Your funeral records should be updated following your marriage, divorce, the death of a spouse or other family members and/or the birth of children/grandchildren.
Certainly, one can't do all their cleaning in one season; this partial list will keep many people on task for some time. When you've done your cleaning, you'll enjoy that good feeling that mom helped me understand: it's good to come home to a clean house.
Remember Well.
David W. Deuth, CFSP, is the owner of Weerts Funeral Home in Davenport. He can be reached at 563.355.4433 or by email at Dave@WeertsFH.com.
Filed Under: Finance
Tags: Bearing, Cfsp, Chores, Clean House, Coming Home, Critical Medical Decisions, Death Of A Spouse, Dread, Good Time, Housecleaning, Household, Living Wills And Advance Directives, Logic, Marriage Divorce, Medical Community, Possessions, Pow, Power Of Attorney, Saturday Morning, Weerts Funeral Home
Trackback URL: https://www.50pluslife.com/2009/10/02/fall-housecleaning/trackback/