October 2, 2009
On The Go With Joe Hutter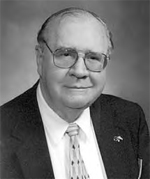 Seniors And Law
Enforcement Together (SALT)
By Joe Hutter
Mark December 3rd on your calendar as Senior Voice will be having the Christmas program at the Starlite Building at the Mississippi Valley Fairgrounds. Members of the Senior Volunteer Program of the Scott County Sheriff's Office and our Seniors and Law enforcement Together (S.A.L.T.) will be there.
Recently we have all been concerned with identity theft and there have been many announcements about checking your credit report. There is one place on your computer where you can get a FREE report once a year. That site is annual-credit report.com. Other sites may have a fee every month.
Recently the federal government had a "Cash for Clunkers" program for new car buyers. If you had any difficulties with this program or with any car dealer call the Iowa Attorney General's Office at 1-888-777-4590. The Consumer Protection Division is available for any problems you may encounter, if a crime was involved or if you have any questions.
There have been many reports to law enforcement agencies about car burglaries and vandalism throughout the area. If you see something that looks suspicious or unusual, call the police. Don't worry if it turns out to not be a crime. You are not bothering the police or Sheriff's Office. They need your eyes and ears to help protect citizens and property.
There has been many events for seniors this year put on by both Western Illinois Area on Aging and Iowa's Generations. If you can, try to attend these events, as they have much information to help you stay healthy and safe.
Our October meeting at CASI on Kimberly Road in Davenport will be on October 28th at 9:30 a.m. Stop in and say hi. No charge, do dues, just an exchange of ideas and to work with law enforcement. Our organization has been approved by the National Sheriff's Association, International Association of Police Chiefs and AARP. Any questions, call Pam at the Scott County Sheriff's Office at 326-8217.
Take care.
Tags: Annual Credit Report, Call The Police, Car Burglaries, Car Buyers, Christmas Program, Consumer Protection Division, County Sheriff, Credit Report Com, Eyes And Ears, Hutter, International Association Of Police Chiefs, Iowa Attorney General, Kimberly Road, Law Enforcement Agencies, Mississippi Valley, National Sheriff, October 28th, Vandalism, Volunteer Program, Western Illinois Area
Trackback URL: https://www.50pluslife.com/2009/10/02/on-the-go-with-joe-hutter-3/trackback/