October 2, 2009
The Lights of Broadway QC Style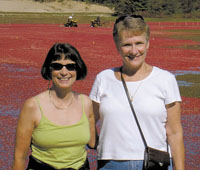 Contributed by Gail McPike and Toni Hall
Question: What began in 1921 as a Midwestern Vaudeville stop and silent movie theatre lives on with some really cool Broadway Musicals? The answer: The Circa 21 Theatre in Downtown Rock Island. Beautifully restored and a page in time, this grand lady awaits the QC sojourner.
On Wednesday, August 26, we headed to Rock Island to see Peter Pan at the Circa 21. We always enjoy the show here; the food and staff are great fun and the shows are excellent. Peter Pan was great and we had a wonderful time. We went with two good friends and we used coupons from the Quad Cities Dining Tour book for an even better deal. How can you pass world-class entertainment at a budget price? We recommend the Circa 21 to all of our friends.
At the Hog Days in Kewanee
Labor Day we headed, with husbands Frank and Phil, to Kewanee, Illinois to find out about their famous Hog Days. These are held every year on Labor Day weekend. There is a great deal of pork to sample and a lot of fun entertainment to enjoy. We skipped riding the Giant Swing but we did "cash in" on the street food. How can anyone resist an honest to goodness corny dog?
An entire city park was filled with flea market goodies. We saw everything from antiques to auto parts. And since discovering trashy treasures is always on our list, we browsed through booth after booth of jewelry and antiques. One beautiful cut glass bowl caught our attention, and we got it at a ridiculous price. But, the gods of glassware weren't on our side – on the way to the car this fabulous treasure fought Mr. Sidewalk. Mr. Sidewalk won. Kewanee is an easy 45 minute drive, the weather was perfect and Hog Days gets two thumbs up.
We saw Frank Sinatra down by the river – The Quad-City Pops
Frank Sinatra, firecrackers, friends and the finest Orchestra in miles came together on a Saturday night. The four of us took in the Pops Concert of the Quad City Symphony on Saturday, September 12th. Many friends gathered at the great outdoor venue in LeClaire Park. We love the Davenport River Front – this is a beautiful setting for a night of great entertainment.
Here's the way it works. The gate opens at 3:00, people come with wine, cheese, fancy hors devours and lawn chairs. The picnic that follows is one of the finest of the year. This year we even saw a couple of groups who brought along candelabras. Now that was classy!
'Simply Sinatra' brought out a Vegas-based Sinatra tribute singer. His singing was a magnificent treat. Every one of the big Sinatra tunes was performed – all with the capable backup of the wonderful Quad City Symphony.
Tradition has it that the evening ends with fireworks and the 1812 Overture (which low—brow Frank sings along as "This is the cereal that's shot from guns). You should look into this enchanted evening next year if you have not experienced it. And if you have, you know what we mean.
The Beaux Arts at the Figge
We also headed to the Beaux Arts Faire in downtown Davenport for one of our very favorite activities: shopping. On Sunday, September 13th, the parking lot of the Figge Art Museum was full of artists, artisans and crafts. We both purchased yard art again. One can never have too many metal corn stalks in the garden – some pretty good deals. It was another of the many opportunities in the Quad Cities for shopping fun.
You know when we hear 50+ people opine "there's not much to do in the Quad-Cities," we cringe. There is so much to do and so little time. We think that there is something for everyone, and we hope to see you when we are out and about.
On the neighborhood scene –
What would you say if we told you the Quad-Cities is home to one of the longest running neighborhood parties in the Nation? It was the time of speak easies, bootleggers, Al Capone and the first FAC. Sometime in the 1920s, a group of Davenport residents decided to gather under a shade tree on Friday night to enjoy some social time and a few illicit cocktails. A vacant lot in McClellan Heights served as this outpost of forbidden fun.
It was an informal affair. Neighbors brought along their concoctions and a few munchies. Then they gathered for some neighborly fellowship. The laws of the day made such gatherings semi-clandestine so rather than meet at someone's home they selected a tree in some vacant lot and gathered to chat.
As laws changed the gatherings moved to the back-yards and patios of the neighborhood. No invitations, no real structure just messages passed over fences and shrubs from household to household. And the tradition lives on.
Today, the party is announced with a hand written sign. It simply says – FAC. Neighbors driving to work, to the kid's ball game or running errands see the sign and know – "tonight the party is here."
This informal gathering of neighbors still lives on in McClellan Heights. No invitation, no party favors, just neighbors introducing themselves to neighbors. Everybody's welcome. There is no better way to meet the neighbors….
Filed Under: Community
Tags: Broadway Musicals, Budget Price, City Symphony, Fabulous Treasure, Frank Sinatra, Fun Entertainment, Giant Swing, Grand Lady, Honest To Goodness, Labor Day Weekend, Market Goodies, Mcpike, Page In Time, Quad Cities, Quad City, Ridiculous Price, Silent Movie Theatre, Street Food, Two Good Friends, World Class Entertainment
Trackback URL: https://www.50pluslife.com/2009/10/02/the-lights-of-broadway-qc-style/trackback/