November 4, 2009
November History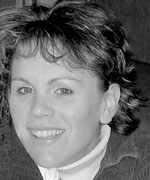 By Jennifer Kohel
November is a time for being thankful for what you have been given and for those around you. Thanksgiving is a great time to be with your family and friends. There is nothing like sitting around watching football games while making crafts and cookies with your cousins, or peeling potatoes for the Thanksgiving dinner with your dad. Be thankful for the memories you have!!!
November: National American Indian Heritage Month and Peanut Butter Lover's Month
November 1 – All Saint's Day and Daylight Saving Time ends
November 2 – Cookie Monster day
November 3 – Election Day
November 7 – International Tongue Twister Day
November 7 – Sadie Hawkins Day
November 11 – Veteran's Day
November 15 – World day of remembrance for road-traffic Victims
November 15 – Great American Smokeout
November 22 – Stop the Violence day
November26 – Thanksgiving day
(Observed the 4th Thursday in November)
November 27 – Black Friday
November 30 – Cyber Monday
Weekly Observances
National Animal appreciation week: 1-7
Pursuit of Happiness week: 8-14
National Hunger and Homeless Awareness week: 15-21
National Teens don't text and drive week: 22-28
Thanksgiving and Football
• The first Thanksgiving Day football game was a high school game in 1882 between Needham and Wellesley in Massachusetts. Wellesley won.
• The first professional football game was in 1934 between Chicago Bears and Detroit Lions. Chicago Bears won.
• The two NFL cities that hold Thanksgiving football games today are Detroit and Dallas, which was started in 1966.
Black Friday
• The official beginning of the Christmas commercial shopping season is the Friday after Thanksgiving.
• The myth is that the consumer buying for the rest of the year is based on how good or bad the sales are on Black Friday.
Macy's Thanksgiving Day Parade
• The oldest Thanksgiving Day parade was not done by Macy's Department store, but was held by Gimbel's Department Store in Philadelphia in 1920.
• The Macy's Thanksgiving Day Parade began in 1924 with the employees of Macy's Department Store. Most of the employees were immigrants and they wanted to celebrate the holiday that represented the founding of this great country.
• Helium balloons were added to the parade in 1927 with a Felix the Cat balloon. Due to the War, the parade was shut down from 1942 to 1944. In 1952, the parade was first aired on television.
Filed Under: History
Tags: American Indian Heritage, Day Of Remembrance, Daylight Saving Time, Daylight Saving Time Ends, Detroit Lions, First Thanksgiving, Great American Smokeout, Homeless Awareness, Macy S Department Store, Macy S Thanksgiving Day Parade, Monster Day, National American Indian Heritage, National Hunger, National Teens, Nfl Cities, Peanut Butter Lover, Road Traffic Victims, Sadie Hawkins Day, Thanksgiving Day Parade, Tongue Twister
Trackback URL: https://www.50pluslife.com/2009/11/04/november-history/trackback/