December 9, 2009
On Gratitude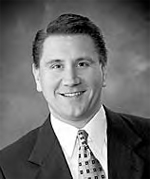 David W. Deuth, CFSP
President, Weerts Funeral Home
Gratitude is not only the greatest of virtues, but the parent of all
others.
– Cicero (106 BC – 43 BC)
There's a lot to like about Cicero's insight. First, because he lived a really long time ago, we begin to appreciate the treasure in the timelessness of the words. Gratitude is nothing new, some new fad. It's an enduring virtue that has applied to all mankind throughout the ages.
Second, in suggesting that other virtues find their roots in grateful hearts, we're given impetus to ponder the prominence – and the value – of genuine gratitude in our lives. Having just observed Thanksgiving, I trust that we all have a heightened awareness of thankfulness and gratitude in our lives.
Yet for families whose lives have been forever changed because someone special to them has recently died, gratitude may seem to be in short supply this holiday season. Others have experienced significant loss in other ways this year: loss of income, loss of a job, loss of professional identity, perhaps the loss of a home.
Indeed, significant loss experiences challenge us at the very core of our being; reconciling these losses, whatever they may be, begins a journey that involves grieving (inward emotions) and mourning (sharing with others). And things can get out of focus pretty easily when so much of our energy and emotion is required to grieve and mourn.
Gratitude can be a healthy equalizer in this process because it centers us on being thankful – even when we're grieving and we don't feel very grateful at all.
If you've experienced the heartache of a significant loss this past year, I hope you'll try to find something that you can be grateful for – even it's just one thing. By developing and nurturing an attitude of gratitude for that one thing, you'll have something to help balance the rollercoaster of emotions that are attendant to grieving the loss. And perhaps that can become a building block to a new level of understanding the importance of gratitude.
And, as you develop an increased presence of gratitude in your life, you may be surprised to learn that you'll even find new things for which to be grateful.
During this holiday season, you may not always feel like being festive. That's OK – go to as many holiday outings as you can manage and be festive when you can. You may not always feel like singing a song. That's OK – enjoy the songs of others and sing when you can.
You may not always feel like being grateful. That's OK – but be grateful for something.
And be really grateful for that.
From our family to yours, we wish you a very blessed Christmas holiday filled with meaning and memory.
And gratitude.
Remember Well.
David W. Deuth, CFSP is the owner of Weerts Funeral Home in Davenport. He can be reached at 563.355.4433 or by email at ave@WeertsFH.com.
Filed Under: Personal Growth
Tags: Attitude Of Gratitude, Cfsp, Cicero, Equalizer, Genuine Gratitude, Grateful Hearts, Heartache, Heightened Awareness, Holiday Season, Impetus, Loss Experiences, Mankind, New Fad, Professional Identity, Prominence, Thankfulness, Timelessness, Virtue, Virtues, Weerts Funeral Home
Trackback URL: https://www.50pluslife.com/2009/12/09/on-gratitude/trackback/