December 9, 2009
Tales by Triplett – The Perfect Christmas Gift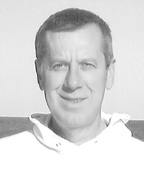 By Patrick Triplett
When I was a kid, Christmas was my favorite holiday. Jumping out of bed on Christmas morning and rushing downstairs to see what Santa had left under the tree was a special day indeed. But over the years Christmas has lost its charm for me, in large part because instead of getting gifts, I now had to buy them, and I am terrible at it.
My wife has a knack for always picking out the perfect gift for me. While I struggle helplessly, wandering through the mall for hours, usually at the last minute, fighting traffic and throngs of people, frantically searching for something that I hope she won't end up returning, and then having to stand in line forever to pay for it.
But there was one Christmas that I thought was going to be different. My mom had given me a tip on what to buy for my wife, sure that she was going to love it, and the best part was that I didn't even have to go the mall to get it. She said it was in the East Village in Davenport, a tiny section of town with only a handful of stores, at a place called Isabel Bloom's. All I had to do was drive over there, pick out a statue called "Comfort," and be home in time to watch football on TV.
I was somewhat familiar with the works of Isabel's, with my wife having purchased some of her items over the years. To me they just looked like pieces of concrete formed into various shapes that were supposed to resemble things, but if that was going to make her happy, then I was all for it.
As I approached the shop, I pictured in my mind a sweet little old lady sitting in a rocking chair, chiseling away at her concrete statues. I figured she would be so happy to see a customer, she might even offer me milk and cookies.
When I walked in, I was greeted by a woman all right, but when I asked her if she was Isabel, she just smiled and asked me if there was something in particular I was looking for.
"Comfort," I said confidently, trying to show her that I knew exactly what I was doing.
The woman, who by now I had guessed was not Isabel but one of her helpers, pointed to a statue on the wall and told me that was the one I was looking for.
"Great," I said. "I'll take it. Please wrap it up and I'll be on my way."
The woman gave me that same smile again, which by now had become annoying.
"You will need to stand in line, sir, and tell the person at the desk which item you would like to purchase."
"Line?" I said, my voice cracking.
She pointed to the back of the room. That's when I saw it. A line of people as far as the eye could see. Suddenly the little shop in the Village became the Little Shop of Horrors.
"What are all these people doing here?" I said, as I began to break out into a cold sweat.
Again with the smile, she replied, "We're very popular this time of year. Didn't you know?"
The shrieking violin music from Psycho began playing in my head, as I started to hyperventilate, and felt the need to escape immediately. But as I tried to head for the exit, more people began pouring in, blocking my way, many wearing shirts that read, "I love Isabel," with a heart in place of the word "love." I was trapped in Isabel hell.
I managed to get out and make my way back to the car, still visibly shaken from my trip to the Village of the Damned.
"Maybe she could use a sweater," I thought to myself, as I headed for the mall.
Filed Under: Personal Growth
Tags: Christmas Gift, Christmas Morning, Concrete Statues, Davenport, Fighting Traffic, Football On Tv, Handful, Home In Time, Isabel Bloom, Knack, Last Minute, Little Old Lady, Milk And Cookies, One Christmas, Perfect Christmas, Perfect Gift, Rocking Chair, Shapes, Throngs, Tiny Section
Trackback URL: https://www.50pluslife.com/2009/12/09/tales-by-triplett-the-perfect-christmas-gift/trackback/