December 29, 2009
In and Out of the Quad Cities
Contributed by Gail McPike and Toni Hall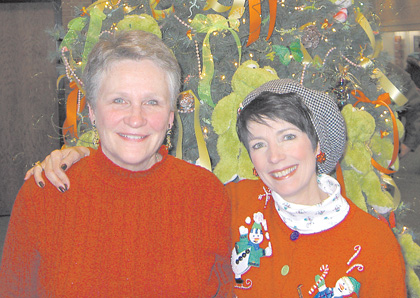 First, allow us to extend a belated Holiday Greetings from your drifting duo of the Quad-City Area. We hope your Season was filled with family, friends and lots of fun.
We decided early on that we would make 2010 a Fifty Plus year to enjoy. We have included something special this time; we threw in our "must do" list for 2010. We called it the 2010 Bucket List. But before we shift into the future, let's take a look at the past month or so.
The Circus comes to town – well sort of
Last time we were together we expounded on the term 'theatergoer.'
It conjures up visions of Shakespeare, Rogers and Hammerstein and Jonathan Larson's Rent. We made it to Davenport's beautiful Adler Theater a couple of times this month. But one performance was anything but 'theatre.'
In his best tongue and cheek styling, hubby Frank claims, "I ran away with the Circus when I was a kid, but my mother made me take it back." Whether this statement is true or not is highly debatable, but when we saw Cirque Dreams: Illumination on November 18th – it ran away with our hearts.
What is Cirque Dreams: Illumination? Well, it's hard to explain, but think about what might happen if you put European artistry, American Circus and Broadway Music into your Vita Mix Blender and pushed the high button. Musicians, acrobats and aerialists, wirewalkers, twisters and poppers combined their talents to create a fantastic show. We were entranced (right up until the time we were exited).
Less than two weeks later, on the 29th, we were back at the Adler for the Wizard of Oz. Remember Dorothy and Toto? They come back to life in a new national tour and as the program said, it was spectacular. The "lions, tigers and bears, oh my" chant brought us swirling back to childhood memories. We remember back in our younger days, dressed in our Shirley Temple PJ's nestled in front of the family's black and white TV. The 1939 classic movie by the same name staring Judy Garland played on TV once per year – and we never missed it. Can we say; the Wizard and we go back quite a few years?
We thought this production was enjoyable, fun and cool. We cannot stop recommending the shows at the Adler. Please look into the schedule if you have the chance.
Christmas Showcase
We took the hubbies to see the Christmas Showcase at St. Ambrose University. It was the quintessential Christmas event. Old favorites, modern new holiday tunes and some jumping jazz renditions of Christmas standards brought a smile to everyone's face. The community symphony orchestra, the university symphonic band, the vocal jazz group, the jazz combo, the chamber singers and the chorus all delivered great holiday music. Our favorite was STAMVOJA, the vocal jazz group. They were lively singers and put on a delightful set. We urge you to look at the schedule at SAU and to catch some of the coming music in the New Year. Here's the fantastic story of living here on the Great River Bend (The Quad Cities), these performances are nearly free! Which brings us to our next little thought: having fun without spending a bundle.
Frugal Festivities
You know that we and the hubbies, like to party; that we do like to have a good time. We also like to keep an eye on the cash flow in order to be able to be out and about in the Quad Cities.
January finds many of us getting something extra from Santa – bills. We believe it doesn't take money to have a good time. This time of year, our little mantra goes, "We're going to celebrate financial ruin, life is good and we know what the poor folks are doing."
We plan to continue on with fun and frolic, but while we recharge the bank account. Our annual 'Black-eyed pea" New Years party is just one example. Down in Oklahoma where we grew up (no we're not sisters – we just share a home state), eating peas on New Year's day is supposed to bring good luck. We're not quite sure about the luck, but for 89 cents you can feed an army of friends. Toss in a jug of table wine and you have the perfect five dollar party. Life is good!
We also plan a couple of outings to the River Music Experience. Can you believe free music from some of the top performers in the area? If you haven't seen "open mike" night at MoJo's, you need get out more. It's free, it's fun and it starts at 6:30 on Wednesday nights.
The 2010 Must Do Bucket List
And now the moment you have been waiting for. The average person reads at 200 words a minute, so for the past three minutes and 42 seconds you have been on pins and needles about this great list. It started just last night that we got together for a potluck meal with our hubbies and a couple of great friends. As we cleared away the dishes, we talked about our 2010 Must Do Bucket List – the hubbies caught it on paper.
We thought this might be a great time to share and share alike. So, here's our list. We're going to:
1. Celebrate Financial Ruin with Black Eyed Peas
2. Go to a real live Broadway Play in New York City and have drinks on the sidewalk
3. Imbibe in three "Side Cars" at our favorite spot Boozies
4. Watch the sun go down from the Boat House deck
5. Go have dinner at that catfish place near Maquoketa (Bluff Lake)
6. Visit Fairfield Iowa on a Friday night
7. Watch the sun rise from high atop Prospect Park in Davenport
8. Attend a Hillbilly Music Festival (maybe in Avoca, Iowa)
9. Travel to Summer Fest in Milwaukee
10. Go to a Renaissance Fair (somewhere)
11. Visit the lighted bridge in downtown Davenport once a month
12. Go to Bishop's buffet for old time sake
13. Picnic at Black Hawk Park
14. Wander Wild Cat Den in the spring
15. Climb in Caves in Maquoketa
16. Find our first Indian Arrowhead (contributed by Frank)
17. Go down to Nauvoo Illinois and see the historic site
18. Spend a day living "Island Time" in Sabula Iowa
19. Visit a Fiber Arts show (somewhere)
20. Win a prize at the fair
21. Go to some zoos (Omaha, Niabi, anywhere)
22. Soak in some Samuel Clements at Hannibal MO
23. Watch an IMAX movie at the Putnam
24. See one of the few Mummies still on display outside of Egypt (at the Putman)
25. Experience the Quad Cities Rock Band – The One Night Standards
26. Have a fig at the Figge Art Museum
27. Visit the Rainbow District
28. Attend a box lunch lecture at the library
29. Ride a golf cart through town
Looks like we may be in for a busy year but we still have time for few more we missed. Drop us a line in care of this paper if you have a 2010 Must Do of your own.
Filed Under: Community
Tags: American Circus, Broadway Music, Childhood Memories, Circus Comes To Town, Cirque Dreams, European Artistry, Fantastic Show, Holiday Greetings, Jonathan Larson, Mcpike, Quad Cities, Quad City Area, Rogers And Hammerstein, Rogers Hammerstein, Shirley Temple, Tongue And Cheek, Vita Mix Blender, White Tv, Wizard Of Oz, Younger Days
Trackback URL: https://www.50pluslife.com/2009/12/29/in-and-out-of-the-quad-cities-3/trackback/