February 4, 2010
Alzheimer's disease and its unique language barrier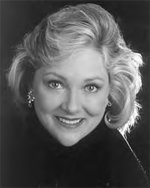 By Becky Lee Hinton
Director of Marketing
The Fountains Senior Living Community
Communication is what connects us to each other as human beings. Unfortunately, those who suffer from Alzheimer's disease experience barriers to communication that can exert stress on their relationships. Communication is defined as the exchange of information, the sharing of ideas, the expression of emotions and the sending and receiving of messages. It can be verbal, non-verbal or a combination of the two. Communication is a way of relating to each other, a representation of who we are as human beings and a reflection of feelings and thoughts through words, attitudes, facial expressions, tone of voice and body language.
Communication works best when both parties have a clear understanding as to the meaning of words, gestures, expressions, etc.
The process of Alzheimer's disease creates obstacles and challenges in regard to how people express themselves and how they understand what is being communicated to them.
A person with Alzheimer's disease may have several or all of the following difficulties; difficulty finding the correct words, creating new words for words that are forgotten, repeating or overusing a word or phrase, trouble organizing words into logical sentences, cursing or using other offensive language or diminished speech. These changes in speech patterns usually develop gradually. If your loved one experiences a drastic or sudden change, it is more likely caused by another medical condition and their physician should be contacted immediately.
An essential component of communication is being an excellent, active and sensitive listener. Your loved one may need assistance expressing their thoughts. According to the Alzheimer's Association, some keys to listening success include:
Show patience. Your loved one can sense when you're impatient and this only increases their own frustration.
Provide reassurance. If they are having trouble communicating, tell them that it's okay and encourage them to keep trying to put their thoughts into words.
Focus on the positive. Criticizing or correcting is nonproductive and could be harmful. Instead, focus on what your loved one has said and try to find meaning in their message. Or, listen with your heart.
Agree instead of argue. If you don't agree with, or are offended by a statement made by your loved one, just let it go.
Offer alternatives. If they are struggling to find the right words, it is okay to offer a guess as long as they appear to want help.
Concentrate on feelings. The words expressed may be incorrect or hard to understand, but it is easier to uncover the feelings behind it by observing their tone of voice, facial expression, gestures and body language.
Reduce distractions. It is easier to communicate in a quiet calm place away from noise and chaos.
The Alzheimer's Association also offers advice regarding your communication style.
Set yourself up for success. Approaching your loved one from the front so that you do not startle them.
Be aware of your tone of voice and body language. Speaking clearly in a relaxed tone will surely put them at ease. Friendly gestures will foster positive interactions.
Keep it simple. Difficult words or long complicated sentences will overwhelm your loved one.
Wait for a response. It may take longer for your loved one to respond, so be patient and give them time.
Be clear. Say what you mean and mean what you say. Avoid sayings that can be interpreted literally, such as "chew the fat" or "break a leg". These can be very confusing.
Focus on a key word or idea. Emphasize the most important word either verbally or nonverbally by using a gesture or by pointing.
Account for hearing or vision problems. Make sure your loved one is wearing a working hearing aid and clean glasses if they are prescribed.
The most important thing to remember is to always treat your loved one suffering from Alzheimer's disease with dignity and respect, regardless of how difficult communication becomes. If your loved one appears not to be interested in communicating, please don't assume that relating is no longer necessary or possible. It could be that the disease has simply impeded their ability to show that desire to communicate. This is why it is crucial to always strive for meaningful communication with your loved one.
The Fountains Senior Living Community in Bettendorf offers the most in Dementia Memory Care. Please call Becky at (563) 332-5775 to learn more about the availability in Dementia Memory Care at The Fountains and to schedule your personal tour.
Becky Lee Hinton is Director of Marketing at The Fountains Senior Living Community.
Filed Under: Community, Stocks
Tags: Alzheimer Disease, Alzheimer S Association, Alzheimer S Disease, Barriers To Communication, Becky Lee, Body Language, Combination Of The Two, Community Communication, Component Of Communication, Experience Barriers, Facial Expressions, Gestures, Language Barrier, Language Communication, Logical Sentences, Offensive Language, Reassurance, Speech Patterns, Sudden Change, Tone Of Voice
Trackback URL: https://www.50pluslife.com/2010/02/04/alzheimer%e2%80%99s-disease-and-its-unique-language-barrier/trackback/