February 4, 2010
Mission to Haiti
In the midst of utter chaos and destruction Jesus saves and rescues. My name is Judy Rands, and I have been married to my husband, Bill, for 31 years. We have 8 grown children and 21 grandchildren. We are members of Bettendorf Christian Church where I am involved with several different groups teaching Christian education to pre-school age children.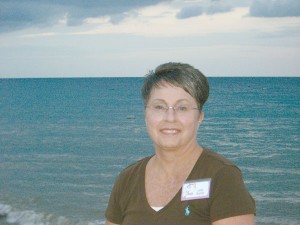 I first became involved in mission work in 2005, when a group of us from Bettendorf Christian Church went on a mission trip to Taiwan. We had planned that the trip would last for 2-weeks…but God had a different plan for me. We traveled to Taipei where we taught English classes for the first week and then traveled on to The Home of God's Love orphanage. As I spent time with the director of the orphanage and the children, I became aware that God was leading me to stay on and serve His children. The orphanage had dozens of babies and children and only 3-caregivers! But me Lord? This was my first mission trip, the rest of my team would be going back the next day, and I desperately wanted to return to my homeland. But God had a different plan for me! I agreed to stay on an additional 2-weeks at the orphanage, but Taiwan was hit hard the night before I was to return with a devastating typhoon. My flight was delayed almost 2-weeks and at the end of that time a second typhoon hit. What was God trying to tell me? Finally, after spending 6-weeks at the orphanage I returned home to my family and friends. But my heart remained with those little ones that I left behind, for by now God had given me a strong heart for missions.
Through Bettendorf Christian Church I began taking mission trips to other countries, but following my first trip to Haiti with Lifeline Christian Missions I knew my heart belonged in Haiti.
Today I sponsor a little Haitian girl and her family, and I delight in seeing them each time I return.
This was my sixth trip to Haiti. I joined with 57 other ladies from all of all over the country to deliver sponsor gifts and new shoes and socks to these beautiful Haitian children. Unfortunately, in the days following the earthquake, my time was spent in the clinic with the injured and in the field sharing God's love.
God willing, I plan to return to Haiti in July, along with my husband and a group from Bettendorf Christian Church.
This experience means nothing if I can't use it to bring glory to God. We saw thousands of miracles! Hebrews 13: 5 says, "Never will I leave you…never will I forsake you…no matter how terrifying the circumstances in which we find ourselves." We serve an awesome God!
The following is an account of my experience the day of the earthquake, January 12, 2010.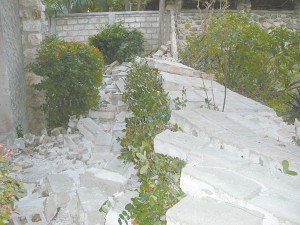 The day began as a normal day. Group prayers, time with our prayer partners, breakfast and devotions. We were all filled with joy. We would spend this day giving out Christmas gifts to about 400-Haitian children. For me this was an extremely exciting day! Today I would see my sponsored child, Danie and her family. I would be able to give her the Christmas gifts that I had brought, and we would share the things that had happened in our lives in the past year. Praise the Lord that this did take place, but little did I know what would happen an hour later.
We had been distributing sponsor gifts to the Grand Goave children earlier in the day in the back yard of the dorm facility. It was a warm and sunny day and we delighted with the children as we helped them with their gifts. There is a location on the side of the dorm building where benches are placed for the children to sit on as they patiently wait their turn. We had just finished distributing sponsor gifts to about 400 children. With hugs and smiles the children happily made their way home. An hour later, the perimeter walls collapsed and the benches were destroyed.
In the hours and days that followed, God performed thousands of miracles. Not only did he save thousands of Haitians but He brought the five of us home safely. Although I was unsure and shaken, I had to trust God to accomplish His purpose in my life. Job 9:10, 12 says, "He performs Wonders that cannot be fathomed, miracles that cannot be counted." Who can say to him, "what are you doing?" No one. We don't have to know what God is doing. We just have to trust Him.
God, I can't ride out the quakes on my own. Thank you for being my firm foundation. Amen.
Filed Under: Featured, Personal Growth
Tags: Bettendorf Christian Church, Chaos And Destruction, Christian Education, Christian Missions, Family And Friends, First Trip, Grandchildren, Left Behind, Lifeline, Little Ones, Mission Trip, Mission Trips, Orphanage, Pre School, Rands, Sixth Trip, Sponsor Gifts, Strong Heart, Typhoon, Utter Chaos
Trackback URL: https://www.50pluslife.com/2010/02/04/mission-to-haiti/trackback/