March 2, 2010
In and Out of the Quad Cities
Contributed by Gail McPike and Toni Hall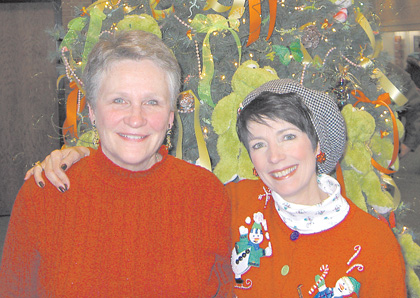 It's been mighty cold this past month. Without quite noticing it the dreaded scourge of cabin fever had crept into the deep recesses of our very being. We had all of the common symptoms but in the most advanced stages. This common winter disease manifests itself in the form of body sweats, hallucinations and delirium winteritis. We were suffering big time. It was getting to be more than a couple of Quad-City Gals could handle. As you read on – you'll discover more.
Winterfest in Middle Amana – Iowa's Coolest Colonies
In the advanced stages of cabin fever people are known to do some strange things. We were at the Tipton turnoff of I-80 before we realized how the cabin fever had affected us. It was January 23th, cold and miserable, but we were on a road trip – destination Iowa's Amana Colonies.
It was Winterfest in Amana. As we were bumping along in the van rolling through snow- covered hill and dale, there was a cold fog rolling across the once fruited plains. But the folks in Amana – being of hearty Teutonic stock – were determined to put on a winter showcase of events. We were predestined to take part.
By the time we arrived, the weather had changed from fog to a delightful mix of rain and snow. This fact put a damper on some of the outdoor events. The famous Amana Ham Toss was sparsely attended. But there were still plenty of warmer activities.
Middle Amana is home to six wineries which were showcasing their products. By signing up for a free punch card, everyone who visited all six locations received a free Winterfest 2010 wine glass. Those folks in Amana make wine from just about everything – dandelion blossoms, rhubarb stocks, elderberries, blackberries, cranberries and, yes even grapes. Our personal favorite was the semi-dry cranberry wine. We ended up bringing back a couple of bottles for use in home cures. They claim it cures the common cold and the occasional cabin fever –to which we had fallen prey.
After the wine tasting we visited the Ox Yoke Inn. For those of you who haven't made a trip to Amana, there are six restaurants lined up in a row. All serve great food and all have a long history of hospitality. We selected the Ox Yoke based on its cool atmosphere and the fact that the Leichsenring family has run the restaurant for four generations.
We capped our trip off with some shopping at the Woolen Mill. This place is the real deal. They were one of the original businesses of the Amana group back when it was still a commune. We watched some spinners make yarn and we looked through piles and piles of knitted fabric.
We in the Quad Cities are fortunate to have an interesting destination so close to home. There is always something going on in Amana. It really does showcase some of Iowa's prettiest scenery. We highly recommend you make a road trip of your own. It's a short and easy 90 minute drive.
Theatergoing in the Village
We know what you're thinking the village – Greenwich Village in New York City. No we are referring to our own friendly local Village of East Davenport. We like the theatre and we like to support local efforts. On Friday, January 29th, we attended (with the hubbies) "Fool for Love" by the Curtainbox Theater Company down at the Village Theater. It was an interesting production.
The Curtainbox Theatre Company is something we should keep an eye on. The group was founded in Los Angles in 2001. They did a number of presentations in places like the Rose Valley Theatre in Venice California and the Stella Adler Theatre in Hollywood. In 2005 Kimberly Furness the founder and her husband relocated to the Quad-Cities. Hollywood's loss became our gain. We hope that you'll join us in supporting this troupe in our local venue.
It was a weekend for theater. Sunday it was girls night out. Six of us went to see Augustana College's production of "The Secret Garden." This play is a musical based on the 1909 novel by Frances Hodgson Burnett. It premiered on Broadway in 1991 and ran for over 700 performances. It is no secret that we love these collegiate productions and we hope that everyone supports our local students.
Risqué business at the Burlesque

Toni, along with hubby Phil, caught the show Burlesque le Mustache at the Capitol Theater on February 6th. This show was the collaborative brainchild of a group of local folks encouraged all through the process by Lon Bozarth of the Capitol Theatre. The troupe performed their own version of the St. Valentine's Massacre with tongue firmly planted in cheek.
The real star of the show was the Capitol itself; what an incredible venue we have here in Davenport. The management has been working hard to put on various new productions. The return of burlesque to the venerable old theater was just a starter. The music of the Hot Club of Davenport was great and the young people put on a wild burlesque. The producer, Dannie Diesel, had quite the interesting concept and two of our other favorites were Birdy Belleville and Lily L'Amour. Please look at the upcoming events at the Capitol Theater.
Knitting anyone

Cabin Fever? We must not be over it yet. Road trip? Yes! For another road trip, we took the short route to Muscatine. There we attended the grand opening of the Serendipity Yarn Shoppe at the old Pearl Plaza. It was a nice Super Bowl Sunday afternoon so what is a girl to do, but go to a yarn shop! There were plenty of knitters at the Shoppe. You know how we like knitting!
In case you haven't been to Muscatine lately, the Old Pearl Plaza is in the historic downtown. It's a hundred plus year old building that has been renovated to feature a number really unusual shops and eateries. Pearl City aka Muscatine is a true gem for the Quad City Area. Add this stop to your bucket list.
Bennigan's Same Great Place Totally new Feel

We live near Bennigan's in Bettendorf. It's in the Holiday Inn right across the street from the Home Depot on Locust/Middle Road near I-74. In the summer time we like to walk for exercise and adventure. From our house to their front door equal exactly 1936 paces according to hubby Frank (who keeps track of these kinds of things). But that is another story.
We decided to visit Bennigan's on February 12th – call it a pre-Valentine's Celebration. What a surprise. For those of you who haven't been there for a while, they have changed. The Irish American pub theme remains the same, but the menu has been masterfully redone. Their new menu offers a list of daily specials. We mean special. Great prices, many of which hover around the sawbuck mark. But wait, that's not all; they offer free seconds on any of their long list of side dishes. Let us tell you a bit more.
One of our party, we won't mention his name – you know protecting the guilty and all – loves onion rings. Wherever we go, he will gripe that the servings are too small. One of the side dishes is onion rings. This fellow was in hog heaven as he polished off his last one, then asking the waitress for more. I, Toni, love broccoli, especially if it's steamed just right –still firm with that bright green color. It's a side dish! How cool is that? However the next time we go, and that will be soon, we've got to do the fried sweet potatoes. Ah, so many great offerings and so little room on the calorie budget.
We were so impressed that we asked Shannon, the manager, if Bennigan's would be willing to run a coupon for our friends to come in and try out the new fare. And, she said they would! Check out page 2 of this issue for a coupon so you can
sample the goodies yourself.
Filed Under: Community
Tags: 23th, Amana Colonies, Cabin Fever, Common Cold, Cranberry Wine, Dandelion Blossoms, Delightful Mix, Disease Manifests, Free Punch, Fruited Plains, Mcpike, Middle Amana Iowa, Punch Card, Quad Cities, Rain And Snow, Recesses, Trip Destination, Wine Glass, Winter Showcase, Winterfest
Trackback URL: https://www.50pluslife.com/2010/03/02/in-and-out-of-the-quad-cities-5/trackback/