March 2, 2010
On The Go With Joe Hutter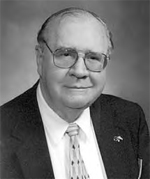 Seniors And Law
Enforcement Together (SALT)
By Joe Hutter
March is here. Daylight Savings Time is March 14th and Spring begins on March 20th. Then comes April showers and income tax is due.
The IRS (Internal Revenue Service) has some tips for us if we don't do our own taxes. It is always good to find a preparer who fits your needs for taxes. The more various types of income, the more qualified preparer you need. It is good for you to be able to talk to your preparer year around, not just during tax time.
You should definitely avoid anyone who claims they can get you larger refunds than other preparers. Beware if their fee is a percentage of your refund. Never sign a blank return and leave it with a preparer and never let your refund go to someone else. Do not let the preparer persuade you to say something on your tax return that is not true.
Beware: the IRS will not send you emails. If you get an email from the IRS, it is probably a scam that could lead to identity theft and malicious software being downloaded onto your computer. Make sure you learn what tax deductions you are eligible to receive and keep your records just in case of an audit.
Looking for something to do the rest of the year? RSVP (Retired and Senior Volunteer Program) is always looking for volunteers. It could be helping children to read or helping various non-profit organizations. You can call RSVP at (309) 793-4425. The program convenes in both Iowa and Illinois. This is a federal program under the Senior Corps. The main requirement is being over 55 years old and volunteering 12 hours a year. Meet new friends and have fun. You will also make a difference helping other people.
Remember, S.A.L.T (Seniors And Law enforcement Together) meets at CASI in Davenport the 4th Wednesday of every month at 9:30 a.m. No dues or work required. If you have any questions, call Pam at the Scott County Sheriff's Office at 326-8217.
Take care.
Filed Under: Finance
Tags: April Showers, County Sheriff, Davenport, Daylight Savings Time, Helping Children, Hutter, Income Tax, Internal Revenue Service, Law Enforcement, Malicious Software, March 20th, New Friends, Pam, Profit Organizations, Seniors, Tax Deductions, Tax Irs, Tax Return, Tax Time, Volunteer Program
Trackback URL: https://www.50pluslife.com/2010/03/02/on-the-go-with-joe-hutter-7/trackback/