March 31, 2010
Commemorating One Hundred Years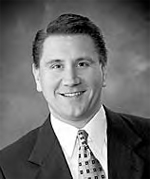 David W. Deuth, CFSP
President, Weerts Funeral Home
Growing up around his father's furniture store in the late 1800s, young O.C. Hill was familiar with funerals – the furniture-makers also made coffins in those days. As his father prepared to retire, though, O.C. decided to pursue the big city and headed off to manage a furniture store in Chicago.
He later met his future wife while working in a similar position in Milwaukee. Following their marriage, O.C. spent some time on the road as a traveling furniture salesman. Never forgetting the roots of his father's store and the coffins they made there, his interest in becoming an undertaker prompted a major change: after several years in the furniture business, he enrolled in a Des Moines embalming school.
Receiving his credentials late in 1909, O.C. Hill returned to Davenport and established Hill's Funeral Home in a storefront at 221 West 4th Street. Ten years later, with his growing business already relocated to 415 Harrison Street, he invited his nephew, George Fredericks, to join him in the business. By 1929, they opened their newly-constructed Hill & Fredericks Mortuary at 13th and Brady Streets in Davenport.
Fast forward to 1955. The firm was well established. O.C. Hill had died by this time; George Fredericks was preparing to retire. Mr. and Mrs. Edward Weerts, who for several years had owned and operated funeral homes in the LaSalle/Peru area of Illinois, became the new owners of the business. For the next 50 years, two generations of the Weerts family would build upon the solid foundation established by their predecessors.
In 1964, they built a second facility at 1228 Middle Road in Bettendorf. Following the death of Edward Weerts in 1971, the couple's two sons, Bob and Jim Weerts, continued expanding the family business. Operations were consolidated into one convenient location in 1986 when our present facility at Kimberly and Jersey Ridge opened. Bob Retired in 1995, Jim some ten years later.
And in 2005, nearly a hundred years after O.C. Hill went off to embalming school, I became just the fourth owner of the firm he established on a wing and a prayer.
To commemorate this century milestone in our history, we're hosting an Open House on Sunday, May 2, 2010 from 10 AM until 5 PM at the funeral home. Stop by for cake and coffee. We'd love to learn some of your memories of the past. And we'll invite you to take a look around – we'll have some historical photos on display and even a few items from yesteryear.
We're grateful for our heritage. We're proud to continue a 100-year
history of local ownership. And we're grateful for the continued trust of so many Quad City area families.
Time may indeed change all things. But we're beginning our second century of service with the same commitments to excellence and
professionalism that are the hallmark – and the foundation – of our history.
A hundred years and five locations later, the Quad Cities can still count on this:
We'll be here when you need us.
Remember Well.
Filed Under: Featured, History
Tags: Bettendorf, Brady St, Cfsp, Coffins, Davenport Iowa, Embalming School, Family Business, Fredericks, Funeral Cars, Furniture Business, Furniture Makers, Furniture Salesman, Furniture Store, Harrison Street, Lasalle, Loation, Mortuary, One Hundred Years, Peru Area, Solid Foundation, Time George, Two Generations, Weerts Funeral Home
Trackback URL: https://www.50pluslife.com/2010/03/31/commemorating-one-hundred-years/trackback/