March 31, 2010
In and Out of the Quad Cities
Contributed by Gail McPike and Toni Hall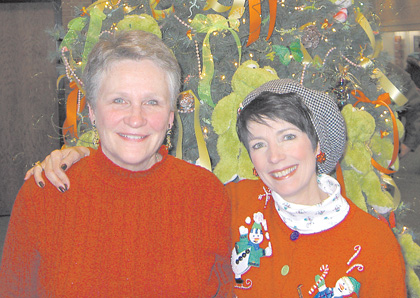 How about a different twist? Nope not the Chubby Checker version, or the chocolate ice cream variety; instead we refer to that great metaphorical twist. Once reserved exclusively for great literary circles, words like literary theorist, philosophic aesthetician and phenomenological research roll off the tongue and flitter about the room like wild butterflies overdosed on dopamine. Our twist comes in the information we present in this article.
In previous articles we have spoken of the many cool things we find to do in the Quad-Cities and have heralded an occasional long distance road trip. But this time we start by answering a reader's question. (We wonder if Ann and sister Abby will be offended by our venture into the field of Q and A.)
Dear Toni and Gail,
You two sure seem to find a lot of stuff to do in our little town. You go to bizarre strange little theatres, off beat restaurant and even a burlesque. Where do you find out about all these happenings? Were you like the
popular kids in high school who constantly got invitations to every party? What gives?
Signed – Enquiring Mind
Dear Enquiring Mind,
First, have you ever noticed there is a thin line between inquiring and being nosy? Gosh, we're not sure we were the popular kids in high school, but rumor has it hubby Frank was popular down at the Principal's office – or at least he spent plenty of time stopping by at their request.
We don't get invitations to all that many parties. Instead, we just crash them – joking, just kidding. No instead, we look in the back pages of a couple of the local papers under the "happenings" section. There are so many things going on out there and so little time. We used to miss a lot of good TV shows but thanks to Netflicks.com, Red Box and DIVO we get to watch TV and go to cool stuff.
Martinis to the Max
Have you been to the Putnam Museum or the IMAX theatre? It's a QCA treasure, and even though they've put up signs out on the interstate, so many people forget to go. We didn't. On February 18, 2010, we went to the IMAX Theater at the Putnam for Martinis to the Max. We saw Australia on the huge IMAX screen, had a martini, and enjoyed the spectacular view of the river from high on the hill. IMAX is to movies what High Definition is to TV. An IMAX movie literally puts you there. The scenes wrap around you, the music comes through the screen and washes over you. We believe it's the greatest thing since "talkies." And, now this is a monthly event at the Putnam. We recommend that you look for it in the upcoming months – no doubt we'll see you there.
A World Premier Movie in Davenport
I would guess that most our readers have never heard of the rock band "Tool." If you have, give yourself a gold star for hipness. If not, we can fill you in. They're a heavy metal band from California (we like the way Gov. Arnold says it), and their lead singer sometimes sports a Mohawk doo. The lead singer of this band made a major documentary about his winery in Arizona.
We (along with the hubbies, Frank and Phil) saw the world premiere of the movie Blood Into Wine at the Capitol Theater on February 19th. It is the film about Maynard James Keenan, afore mentioned lead singer of Tool, and his efforts to help start the fledging wine industry in Arizona. Davenport was one of only six venues for the premier on that evening. The film was followed by some tasting of Arizona wines. It was a fun event, and we are always willing to attend our sparkling jewel of a theater.
No doubt this documentary will find its way into the DVD rental stores. We recommend it. It's not just another "rock band picture." Mister Keenan is articulate and has some well thought out points on the wine, the world and life in general. We think you'll like the movie, and you'll seem so cool when you talk to your 28 year old friends.
Knitting Conventions – Why should Shriners have all the fun?
Yes, your intrepid reporters headed way out of the Quad Cities at the end of February. We attended Stitches West in Santa Clara, California (Gosh we wish Arnold could pronounce this for you). We took classes, visited with the vendors and participants, looked at all the beautiful yarns, and generally enjoyed the heck out of ourselves. We're talking about pamper with a Capital P – coffee in bed, sleeping late, dinner at west coast Mexican restaurants, fresh fruit the whole tamale.
We love to knit and make cool things for our friends and family. And, every year we charter a bus to carry our fellow knitters to Stitches Midwest in the Chicago area. But when you are responsible for 40-50 others its hard to be the student. Tis time we had three days to just soak it all in. We have plenty of new ideas and projects and we are looking forward to taking our group to Chicago in August.
Viva Las Vegas
Nope we're not gamblers. Nor do we dress up as Elvis and cruise up and down the strip in a rented '59 Caddy convertible. But we had an opportunity to visit with a friend from Australia while she and her husband visited Las Vegas. We stayed a couple of days checking out the fiery fountains, the beautiful buildings and, of course, catching up with our dear friends. We'll talk more about Las Vegas but time to move on.
Two, count them TWO world premiere in one month
We, and the hubbies, saw the world premiere of Tired American Dream at the Harrison Hilltop Theater on March 6, 2010. It is a new rock musical by Derek Childs, and he was the piano player and one of the characters in the production. The Harrison Hilltop Theater is a small space (think 1930's bank lobby) with seating for about fifty audience members. It is a very interesting experience to be right in the production space, practically seated on the stage. It was enjoyable, and we recommend that our readers look at future productions to see if there is one for you.
Postville Revisited, an evening with an award winning author
We attended a lecture at St. Ambrose University by Stephen Bloom, author of Postville: A Clash of Cultures in Heartland America. We enjoyed the book and even had visited Postville, Iowa. It was great to be able to see and hear the author on March 11 at the Rogalski Center. We are fortunate that there are many opportunities such as this one at our local schools.
And Dickens, too
Toni, with hubbie Phil, attended Dickens in America, a one-man play, at the Moline Public Library on Saturday, March 13. It was written by James DeVita. James Ridge played Charles Dickens on the last night of his second lecture tour of the United States. Both men are with The American Players Theater in Spring Green, Wisconsin; we think that we should head that way this summer. It is close to the Quad Cities. …add that to your bucket list!
The first day of Spring was March 20. We've already moved our clock up an hour. Now we have more daylight to get out and do more. We hope that you are getting out and about more…. Till then Adios from the Springtime Snow covered Hollywood Hills of Davenport.
Filed Under: Community
Tags: Abby, Aesthetician, Back Pages, Chocolate Ice Cream, Chubby Checker, Cool Things, Flitter, Good Tv, Hubby, Imax Theatre, Literary Circles, Literary Theorist, Local Papers, Martinis, Mcpike, Phenomenological Research, Putnam Museum, Quad Cities, Road Trip, Thin Line
Trackback URL: https://www.50pluslife.com/2010/03/31/in-and-out-of-the-quad-cities-6/trackback/