March 31, 2010
On The Go With Joe Hutter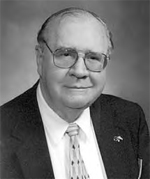 Seniors And Law
Enforcement Together (SALT)
By Joe Hutter
April is here – thank heaven! It also brings the deadline for filing your income taxes. My warning this month is on refund anticipation loans. The Iowa Attorney General also warns us about paying up to 140% interest on a refund loan. Many of us over 50 don't need a short-term loan, but my advice is to tell your children and grandchildren to be careful about getting one of these loans. If you file electronically you can get a refund in seven to ten days. So, if your children or grandchildren mention to you about tax refund loans, tell them to save hundreds of dollars by waiting for their tax refund.
The new United Stated Credit Card Act gives consumers new rights and protections with their credit cards. Some of the changes are:
• Limits on interest rate increases
• More credit card filling information
• New protections for underage consumers
If you have any complaints, you can call the Iowa Attorney General's Consumer Protection Division in Des Moines at 1-888-777-4590 toll free.
Recently we have been seeing on the television news about how much money is lost because of Medicare fraud. When you get your statement about your use of medicine, check and make sure what is on the statement is correct. Much of the news dealt with theft in Florida, but it could happen here. If you see something wrong with your billing statement, call Medicare and inform them of your circumstances. We all need to help stop Medicare theft.
With summer coming, are you looking for something to do that will help your community? Call the RSVP Office at 793-4425 and talk to Dave Layton or Linda Nielsen about opportunities to volunteer in the Quad City area. There are many fun opportunities available!
Mark May 6th on your calendar as this is Senior Day for Senior Voice. This is a fun and educational day. See you there.
Do you want to know more about Seniors And Law enforcement Together -S.A.L.T.? Call Pam at the Scott County Sheriff's Office at 326-8217.
Take care.
Filed Under: Community, Finance
Tags: Billing Statement, Consumer Protection Division, Credit Cards, Des Moines, Grandchildren, Hutter, Income Taxes, Iowa Attorney General, Law Enforcement, Linda Nielsen, Medicare, Medicare Fraud, Medicine Check, Pam, Quad City Area, Refund Anticipation Loans, Rsvp Office, Short Term Loan, Tax Refund Loans, Television News
Trackback URL: https://www.50pluslife.com/2010/03/31/joe-hutter/trackback/