March 31, 2010
Strengthening Families and Communities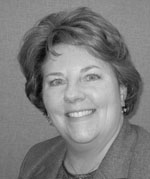 By Rondi Doyle
Director of Community Relations
Child Abuse Council
The month of April is devoted to celebrating and supporting everything we can do to transform our community into a place that really cares about families and children, which is what prevention is all about.
We all care about the issue of child abuse, but we often hear more about the problem than we do about the solutions. The majority of child abuse cases stem from situations and conditions that are preventable in an engaged and supportive community. Preventing child abuse means setting the stage for healthy, stable families who have the tools they need for nurturing their children.
The Child Abuse Council is the only regional nonprofit in the bi-state area who is dedicated to the prevention of all forms of child abuse and neglect. Through evidence-based family strengthening programs, public and professional education, leadership and advocacy, we work to ensure that every Quad Cities parent and child can thrive.
"Strengthening Families and Communities" is the theme of the 2010 National Child Abuse Prevention Month. A free community resource packet, developed by the U.S. Department of Health and Human Services' Children's Bureau, Office on Child Abuse & Neglect, can be downloaded from their website, www.childwelfare.gov/preventing/res_guide_2010. The packet contains information about how individuals, organizations and communities can work together to prevent child abuse. It is available in both English and Spanish.
The Child Abuse Council is hosting activities during April to increase awareness and to call attention to the steps that can be taken to prevent child abuse.
One of these activities is a free regional training opportunity on April 14. Information based on the Frameworks Institute provides a toolkit compendium of research on how to communicate the message of child development; to increase public awareness for policies that support prevention; and intervention policies that reduce child abuse and neglect. The two-hour session begins at noon at the Fairmount Street Library, Davenport. The public is welcome, but seating is limited. A light lunch is provided, so reservations must be made by calling Kathy at 309-786-1466.
A second activity is a special fundraising event, "Blue Ribbon Beginnings" auction/dance to be held on Friday, April 23, at the Isle of Capri Convention Center. It is sponsored by the Riverboat Development Authority. The event includes heavy hors d'oeuvres, cash bar, silent and live auctions, raffle and wine pull. The cost is $50 per person. Tickets can be purchased in advance or at the door. The event raises funds to support child abuse prevention activities at the Child Abuse Council.
Join us today in our work to give every parent, child and community a healthy, successful future!
For more information about the Child Abuse Council's prevention and education programs, you can visit us at www.childabuseqc.org or contact me at rondid@childabuseqc.org.
Filed Under: Community, Health & Wellness
Tags: Abuse And Neglect, Child Abuse And Neglect, Child Abuse Cases, Child Abuse Council, Child Abuse Neglect, Child Abuse Prevention, Child Abuse Prevention Month, Education Leadership, Forms Of Child Abuse, Free Community Resource, Intervention Policies, National Child Abuse, National Child Abuse Prevention, National Child Abuse Prevention Month, Preventing Child Abuse, Resource Packet, Stable Families, Strengthening Families, Support Prevention, U S Department Of Health And Human Services
Trackback URL: https://www.50pluslife.com/2010/03/31/strengthening-families-and-communities/trackback/