June 1, 2010
A TRIBUTE to Fathers
As Samuel Clemmens, better known as Mark Twain, once said, "When I was a boy of fourteen, my father was so ignorant I could hardly stand to have the old man around. But when I got to be twenty-one, I was astonished to see how much the old man had learned in seven years."
---
Oh, my Papa…
To me, Dad was bigger than life. He died while I was in grade school, so I remember him as always being really big. I have many wonderful memories from just a few short years.
One is of sharing black jelly beans, sometimes before mealtime. He would look at me, wink and smile as if to say we had outwitted Mom again. (I'm sure she knew.) Another is of watching Kansas thunderstorms. He loved to watch the stormy sky from from our screened in back porch. The storms would scare me, but I found safety in standing beside him and observing his awe of them. Thank you, Dad, for the memories.
– Eloise Graham
---
Thanks for the Optimism…
When I was about 9 years old, I was watching TV and said to Dad, "Everything in the world is so bad. All the news that is reported is bad". He said, "Actually more things are good. The news reports what's out of the ordinary, so bad things are extraordinary not the norm". I remember those words frequently when things get hard. His optimism has carried me through many days. Though he cannot say those words to me anymore, his spirit of finding the silver lining continues to guide me.
– Jane Graham-Jennings
---
Remembering Dad…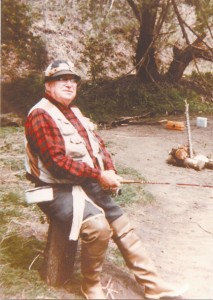 Oh, how many times have I thought about the best times I had with my Dad while trout fishing in Northern Iowa so many years ago. Shown below is a picture of my dad, Roy Myers, in a place he dearly loved…French Creek. Dad would get up real early, go fishing, catch some trout then come home to his apartment to have a nap. Then it was off to the diner for lunch and a piece of pie. Back home to rest then back to the trout stream to fish the afternoon away. Many times Dad has found a youngster fishing with less than optimum fishing equipment to give that youngster his fishing pole with instructions how to catch trout in that stream. Dad was a unique and very intelligent person. In his younger years he worked creating some secret metallic items that now are used by NASA, etc.
Garden Hackle…
Dad was famous in Northern Iowa as the best trout fisherman around. Dad fished most every day until he was 85 years old. Often, he would see what bugs were hatching, go back home and tie the exact bug and catch trout with that fly or bug. One such time I was with him in late autumn when the trees had dropped their beauty of leaves all around each tree and the Hawks were circling above cawing to let you know they were there. Dad tied on one of the flies he had created and I did the same thing, except I added a little bit of fishing worm to mine. I caught a large trout immediately and as I said, "Fish On," Dad yelled from downstream, "What you using, Russ?" I laughed and said, "Garden Hackle." Dad knew immediately what I had done and gave out a big laugh. Yes, Dad, you are missed for all the fun times we had together and all you have taught me. Love you!
– Russ Myers
---
Always in My Thoughts…
Since losing our Dad a year ago, not a day has passed when I haven't thought of him. Dad was truly a unique guy, and I respected him profoundly. I also loved him. I think of Dad often when a simple task – I reach for a saw and remember working with Dad on together on a cabinet project. We called the saw we were using "butter" because it was so dull that Dad said he wasn't sure that it would cut hot butter. I also think of Dad when I am trying to make a decision. Dad wasn't always right, but he taught me to try to be right. I miss Dad, but I also carry him with me, and he is never very far away.
– James N. Graham
---
My Hero…
My Dad was my Hero–my Role model–my Friend. My dad was ALWAYS there for me. Whether it was cheering me on at my school events, teaching me how to drive stick shift, walking me down the aisle, or teaching his grandchildren how to swim, family always came first for him. With my Dad passing away unexpectedly last July, this is my first Father's day without him. He was a great man!! I miss him!! Remember your Dad on this Father's day as you never know when it might be your last time with him. I love you Dad!! Thanks for EVERYTHING you ever did for Mom, our family, and my family!!
– Jennifer Kohel
---
A Harmonious Life…
My father, Carl Paarmann, the professional musician, music educator, and family man, he believed in creating harmony. He excelled in every aspect of his life. My life has been enriched because of his beliefs and actions. And I am forever grateful to have had such a wonderful father.
– Steve Paarmann
---
Happy and Proud Willard, Missouri Dad…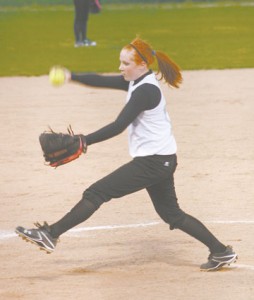 Here is another short story about a Dad that cares so much about his daughter! Next month you can read about Tom Taylor and me fishing at Table Rock Lake with nationally famous Bass fisherman and guide, Jackie Davis. Jackie was a fantastic host and teacher. Tom, of course, caught the biggest bass. I had a great time and caught many many bass over our two days.
I've had guides before, but not one of them was as patient and caring as Jackie Davis. He is the proud father of Allison, his 12-year-old softball-pitching star, and daughter. Jackie spoke often about his daughter during the two days of fishing. Here's a picture of his softball star daughter.
He would pick us up at the door of our condo and off we would go to the lake, which was not far. Jackie lives in Willard, Missouri, not far from Branson where mostly he plies his trade as bass fishing guide. Often, Jackie enters Bass Fishing Tournaments and has been real successful. Can't wait to fish with him again. Tom and I learned a lot from Jackie Davis.
– Russ Myers
Filed Under: Community, Featured, Health & Wellness, Personal Growth
Tags: Back Porch, Dad Roy, Eloise, Few Short Years, French Creek, Go Fishing, Graham Jennings, Jane Graham, Jelly Beans, Mealtime, Oh My Papa, Piece Of Pie, Remembering Dad, Roy Myers, Silver Lining, Stormy Sky, Tribute To Fathers, Trout Fishing, Trout Stream, Wonderful Memories
Trackback URL: https://www.50pluslife.com/2010/06/01/a-tribute-to-fathers/trackback/