June 1, 2010
In and Out of the Quad Cities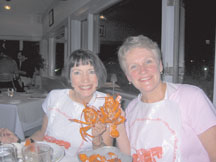 Contributed by Gail McPike and Toni Hall
It's June! The astronomers down at NASA might argue that summer officially begins on June 21st, but we subscribe to the June 1st theory. Our great friend Mark Martens – an Ames-based agricultural expert says summer begins the first day it turns 90 degrees. No matter how you judge the start of summer, the good old Quad-Cities come alive in the summer.
One of our friends told us they always wanted to live in a tourist town.
You know something? We do! We live in one cool tourist town. If you don't believe us, check with the Q-C Convention and Visitors Bureau. We did, and they told us over 1.3 million people visit our fair city every year. We're not writing this to warn you about roving bands of tourists with cameras hanging from their necks, talking in loud voices and
wearing poorly fitted Bermuda shorts coming down at our favorite restaurants. No, we refer to our own gigantic plans to be tourists – right here in our own home town. Unlike our annual visit to the Iowa State Fair – we won't have to pay five bucks to park in somebody's front yard.
Festival Season is Just around the Corner
There are so many events, productions, and festivals on the list – we'll have to clone ourselves to go to them all. We can't list them all but here's a short blast:
Jumbo Ya-Ya in the District Rock Island…..June 11 and 12
Sturgis on The River – Davenport…..June 16 – 19
The QC AirShow…..June 26 and 27
The IHMV BluesFest – Davenport…..July 2 – 4
Now add a half dozen farmer's markets, a concert or two, a stock car race, a horse show and a county fair and we're on tourism overload.
Cinco de Mayo
Phil and I (Toni) headed down to the Great River Brewery. The brewmasters there tapped the first keg of their great new beer "Mexicana" – a dark Mexican lager. It was a beautiful evening, the beer was tasty and the celebration was just getting started in earnest. Then we rendezvoused with Gail, Frank and Eloise down at the Rhythm City Casino. We went to hear the Mexican sounds of the Quad-Cities own Los Mocambos. No folks this time we didn't Rumba, Cha-Cha or Kumbia our way across the dance floor – but we did see a couple of friends showing off their dancing skills.
As we listened to the music we thought what a treat to try a new Mexican restaurant. We spoke to several friends and a couple of strangers seeking their recommendation for a Mexican eatery. In the Quad-Cities good Mexican food is a tradition – so it takes a lot to impress us. Instead of Gail's personal favorite spot – La Primavera in downtown Moline – we ventured up a hill a handful of blocks to El Mariachi. The food was good and they had Tequila, Margaritas and Cervesa. Frank has vowed to learn Spanish (it's a life long advocation as opposed to avocation). He is on the one word a year plan. He wanted to celebrate his new word by participating in Cinco de Mayo festivities this year – Happy Cinco de Mayo.
Lunch with the Area Welcome Club
In days of old Vikings terrorized the western shores of Europe. Lief Ericson is said to have discovered America a hundred years before Columbus. Proof of this discovery lies at the Viking Club over in Moline. (That was a joke.) But the Viking Club was the venue for this year's Area Welcome Club Luncheon held Thursday, May 6th. It's a great venue and the luncheon was a success as always. We both have been involved with the Welcome Club since we arrived as newcomers in the QCA. It is great group and we recommend it highly! If you know someone who is new to the area, wants to meet people and get involved in many activities check out the Area Welcome Club.
The Sopranos, Joe Pantoliano and The Capitol
Hi – Toni here! Phil and I just finished watching all 6 seasons of the Sopranos. From January to March our TV was "all Mafia all the time." So when it was announced that "Ralphie" from the Sopranos was coming to town, we decided either it was going to be a big heist or somebody was going to get knocked off. It turns out that on the evening on May 6th, the documentary "No Kidding?!! Me Too!" was presented at the Capitol Theatre by the Vera French Speaker Series. Joe Pantoliano is the producer of the film and he was available for Q and A afterwards.
You might not recognize the name, however, you have probably seen Joe in several movies. He played "Ralphie" on the Sopranos. He has been affected by depression and wanted to make a movie about mental illness. It was an informative evening. The Quad Cities are very fortunate to have such great resources as Vera French and the many other dedicated health professionals.
Back to the Brewery
Remember last month we told you that Frank was reliving his childhood by playing in a neighborhood garage band? Well, actually it's not a garage – it's a basement of one of our friends, let's call him "Wheels". It's kind of a long story so we aren't going to provide details – but the band moved out of the garage. They held their world premier performance on Saturday May 15th at the Great River Brewery located at Second and Iowa in downtown Davenport.
And now for our critical review: (look out Siskel and Ebert) We are seriously wondering what these guys did with the money their parents gave them for music lessons. To be able to refer to this as music takes an imagination and about 16 fluid ounces of beer. However, you could recognize most of their songs so we give that two thumbs up. And after the second beer you found yourself tapping your toes along with the rhythm.
The brewery was kind enough to provide complimentary red-bean gumbo and all the fixins'. If you have not yet been there yet the brewery has a sampling room and a monthly event or two each month that features complimentary food along with their fine beer.
Now back to the band. Rumor has it that they will be back. Just like Rambo 3, Rocky 4 and Star Wars 6 – you can bet your bottom dollar there will be a sequel! And with that fine thought we wish you a great June. Hope to see you at the Farmers Market or one of the great fests.
Filed Under: Community, Humor, News
Tags: Agricultural Expert, Beautiful Evening, Bermuda Shorts, Brewmasters, Cinco De Mayo, Convention And Visitors Bureau, Eloi, Five Bucks, Friend Mark, Horse Show, Iowa State Fair, Loud Voices, Mark Martens, Mcpike, Mexican Lager, Quad Cities, Stock Car Race, Sturgis On The River, Tourist Town, Ya Ya
Trackback URL: https://www.50pluslife.com/2010/06/01/in-and-out-of-the-quad-cities-8/trackback/