June 1, 2010
Who's Really In Charge?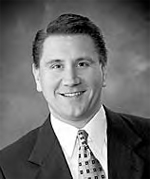 David W. Deuth, CFSP
President, Weerts Funeral Home
The second article in a series intended to help readers gain a better understanding of things most people never think about – until it's time to plan a funeral.
Last month's introductory article to this series established a few key points:
1. People don't know what they don't know.
2. A Will is almost always necessary.
3. A properly prepared Will is essential; reviewing it every five years is advised (or anytime Birth, Death, Marriage or Divorce occur in the immediate family).
4. Despite the fact that many choose to ignore it, discussing funeral preferences is an important element in good "estate" planning.
We also established that, by doing nothing to establish a Will or Funeral Preplanning, the default result is that someone else is usually in charge. And that's not always good.
Let's take a closer look at why this is so important.
We'll begin by creating a fictitious couple – "Tom" and "Barb" – who have been married for some time and reside in Iowa. They have three teenage children. Both Tom and Barb are still working, seemingly healthy and, like most middle-aged couples, have never discussed anything about their funeral preferences.
And then the unthinkable happens: Tom suddenly dies.
Barb and the kids naturally encounter a rapid tailspin. Not knowing what Tom really wanted, difficult decisions are now being made on the worst day of their lives – and likely best guesses at that. The decision is made to have a funeral followed by burial in a local cemetery.
Fast forward several years. Barb is remarried to a fellow named Steve. All three of her kids are now adults and are living on their own.
And Barb dies.
The kids, always understanding that their mother will be buried next to their father, are shocked to learn that Steve wants Barb's body to be immediately cremated – and he sees no point in burying the ashes
anywhere.
Who's in charge? Barb's second husband? Or her three natural adult children?
According to Iowa statute, Steve, as Barb's legal spouse, has the Right To Control Funeral Arrangements. Cremation requires the signature of the next of kin; accordingly, his is the only signature required to
authorize cremation. Objections from Barb's three children are unconvincing to Steve. Barb's body is cremated.
This example underscores two important things: First, had Barb established her preference to buried next to Tom in a pre-arrangement, the funeral home would have a moral obligation to carry out her wishes. Second, this example also underscores why I like to encourage a review of one's Will and life insurance policies any time Birth, Death, Marriage or Divorce occur within your immediate family. Your Will and your life insurance policies should always reflect your current family landscape – and your intentions.
Let's paint a slightly different scenario after Tom's death. Steve doesn't exist and Barb never does remarry…nor establish a funeral pre-arrangement. At the time of her death, the oldest of the three adult kids says she wants mom's body cremated. The other two disagree, saying they want mom's funeral to be just like dad's.
Who's in charge?
In this example, all three of the children share equally in the nearest degree of kindred and thus share equally in the Right To Control Funeral Arrangements. All three signatures will be sought in order to proceed with cremation. Naturally, disharmony over such decisions can place undue stress upon a family during the most difficult days in their lives. If nothing else, recording your intentions in a pre-arrangement at least lets your family – and your funeral director – know what YOU wanted.
Next month, we'll take a closer look at the Iowa statute that governs the Right To Control Funeral Arrangements – and a recent amendment that provides for a Designee for this very purpose.
A death in the family shouldn't become a time to wonder what they would have wanted or to squabble about the same. Recording your wishes goes a long way toward making it easier for the people you care about the most to reflect, reminisce, honor a life…and… Remember Well.
David W. Deuth, CFSP, is the owner of Weerts Funeral Home in Davenport and can be reached at 563.355.4433 or Dave@WeertsFH.com. His series, Who's Really In Charge?, will continue in next month's edition of 50+ Lifestyles.
Filed Under: Finance
Tags: Adults, Best Guesses, Birth Death Marriage, Cfsp, Closer Look, Couples, Difficult Decisions, Divorce, Element, Estate Planning, Fellow, Funeral Preplanning, Immediate Family, Introductory Article, Marriage, Tailspin, Teenage Children, Thre, Unthinkable, Weerts Funeral Home
Trackback URL: https://www.50pluslife.com/2010/06/01/who%e2%80%99s-really-in-charge-2/trackback/