July 5, 2010
In and Out of the Quad Cities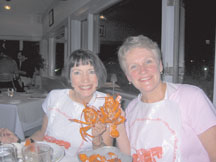 Contributed by Gail McPike and Toni Hall
Well, Quad-Citians, it's summer time. We've had hot, we've had rains and, thank goodness, we haven't had flood waters lapping against the Downtown Davenport. And, for your intrepid reporters here, it has been an action packed time. Last month we chronicled all the festivals and other exciting events going on around us. And we outlined the million-plus visitors who are literally beating down the gates of our fair cities to join in our fun. In an effort to have our cake and eat it too, we have actively drug our hubbies to places they would never have dreamed of going. So, grab a cup of coffee or an ice tea and join us as we recant the adventures of two QC girls gone wild.
The show must go on…
Hi everybody this is Gail. Since Toni was missing in action for part of the month, I decided to take up the journalist mantle and head off to see a couple of plays on my own. First, it was Beauty and Beast at the historic and wonderful Adler Theatre. I know what you are thinking – no this play wasn't the love story of my hubby and I (with me playing the Beauty). Rather, it was an adaptation of that great children's story. Every time I make it to the Adler I think, "This is better than Broadway. No rude cab drivers, no incessant street crowds, just fabulous entertainment – a couple of miles from home."
I also had the opportunity to see South Pacific in Des Moines. A classic musical, loved by millions, was presented to an enthusiastic crowd from all over Iowa. It's not as easy as going to the Adler, but gosh what a fun time.
The June 10th issue of the River Cities Reader was a Summer Theater Kick-off, and it was packed with information about the shows this
summer. The Reader always has the latest information on local theater both in print and on-line. We really want to see you out enjoying these productions. Just pull out your calendar and select some great shows. Nothing is better than a night out with friends at a play. And as always, we will tell you where we have been out and about in the QCA.

Roots, Rock and Reality Taylorville Style
Taylorville Illinois is the home of many things. It's the home of Iowa State's great basketball coach, Johnny Orr. It's the home of ex-New Jersey Governor Jon Corzine. And more importantly, it's the ancestral home of hubby Frank.
We (with the hubbies) headed to Taylorville, Illinois for the 3rd annual Barbeque, Blues and Cruise on June 5th. Let us set the stage by describing the setting. Taylorville embodies the truest of aspects of the great American Melting Pot. It's a place settled by German and Irish Farmers, Italian and Appalachian coal miners and later joined by folks of all ethnic varieties. It's a place where food and music are a tradition. And, it's the land that time forgot. The town square is still the center of daily life. The local drug store coffee shop remains the center of community and political discussion.
The event is held at the local fair grounds on the edge of town. It features a barbeque contest, an old car and motorcycle show and a couple of bands – each of which contains at least one person who calls Taylorville their home town. It was a delight; there was great music, food, classic cars, and plenty of fun.
And remember when we said Taylorville is a food town. No visit to Taylorville is complete without a stop at Bill's Toasty Shop. Bill's is an 11 seat dinner that has been in the same location since 1927. A "toasty" is the name for their hamburger sandwich. Nobody knows why, but the moniker stuck. We stopped there for lunch on Sunday.
Not being a native, Toni decided to order a double burger – bad idea. She was immediately chastised by the waitress, "Girly are you sure? You'll never be able to eat a double. And we don't take to wasting good food. These are reserved for manly men, construction workers, farm hands and lumber jacks." The waitress was right, what a huge sandwich. So if you ever find yourself smack dab in the middle of Illinois, we recommend Bill's. It's like a time machine ride back to way before chains of burger restaurants.
Iowa Sheep and Wool Festival
By now you probably realize that we are knitters. Gail is determined to push the envelope – to go beyond "store bought" yarn. She recently found a spinning wheel and is working patiently on making her own yarn for knitting projects. With this in mind, it made complete sense to travel on July 12th, (with Frank in tow) to The Iowa Sheep and Wool Festival at the tiny Dallas County Fairgrounds in Adel, Iowa.
This event is the annual gathering of all things sheep in Iowa. Sheep growers, shaggy sheepherders, sheep shearers (the barbers of the sheep world) and folks who twist the wool into, you guessed it, yarn. We saw the sheep breeds, touched the fleece, learned new spinning techniques and – you guessed it – sampled sheep-burgers. (No, they don't taste like chicken.) What's more important, Gail purchased the fleece of a couple of prize winning sheep. One is a beautiful white color and was raised just down the road from the good old QCA. The other takes after Frank's side of the family – it's a black sheep. We know that somewhere out there two sheep are running around in just their skivvies because we have their "fur" safety tucked away in the knitting room.
Coming Attractions
We love summer in the QCA and there is so very much to do here. July brings the Bix and all that it is here in our community. There are county fairs, music in the parks, activities and productions everywhere. The John Deere Classic will bring national attention to the Quad Cities, too. The Davenport 53 theaters will be providing the summer encore series of the Live in HD from the Metropolitan opera and there will a show each week in July. Check the listings. We always look at the Reader, the Showcase, and the weekly Go & Do section of the Quad-City Times. You will be amazed at everything there is to do in and out here in the QCA.
Filed Under: Community, Humor, News
Tags: Adler Theatre, Beauty And Beast, Beauty Beast, Cab Drivers, Cup Of Coffee, Enthusiastic Crowd, Fabulous Entertainment, Flood Waters, Fun Time, Hubbies, Hubby, Intrepid Reporters, Local Theater, Love Story, Mantle, Mcpike, Missing In Action, Quad Cities, River Cities, Summer Time
Trackback URL: https://www.50pluslife.com/2010/07/05/in-and-out-of-the-quad-cities-9/trackback/