July 5, 2010
Publisher's Corner – Positive Changes are in Store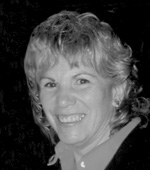 By Eloise Graham
July 29 marks one year since my husband Jim died so unexpectedly. Much has happened since then. Like anyone who has experienced the death of their spouse, I've had good days and bad days, ups and downs. I sure miss him, his wit, his charm – and his just being there.

As many readers are probably aware, Jim and I acquired 50+ Lifestyles in July of 2008. We had the intention of working together, starting a new chapter in our lives following Jim's retirement from KWQC. Despite the fact that we had lived in several different cities in several states over the years, we both felt that the Quad Cities was "home." Being at KWQC for 12 years, we had been connected in the communities of the Quad Cities, and now 50+ Lifestyles would allow us to continue that connection.
I have continued to manage things with this paper since Jim's death a year ago, but I have found it necessary to find some ways to better manage the production of the paper. And now, one year after Jim's death, I am pleased to tell everyone that some very positive changes are in store for the future of this publication. I have partnered with a team of local people I know and trust who are prepared to take 50+ Lifestyles to the next level.
I'm very pleased to inform you that Mike Mickle, Dan Adams and David Deuth have all partnered together to assist me in the continued production of 50+ Lifestyles. This will allow me to remain involved in the paper but will allow for their experience, expertise and assistance in everything from production to distribution.
Jim had learned, believed and lived the Scout Law. His way of life was the Golden Rule. He would be proud to know that the integrity of 50+Lifestyles will continue.
Please join me in welcoming Mike, Dan and Dave to 50+ Lifestyles! I remain grateful for your continued support and look forward to the exciting improvements that lie ahead.
Filed Under: News
Tags: Eloise, Experience Expertise, Golden Rule, Imp, Impro, Integrity, Intention, Jim Graham, Kwqc, Lifestyles, Mickle, New Chapter, Next Level, Positive Changes, Publisher, Quad Cities, Retirement, Scout Law, Ups, Ups And Downs, Way Of Life, Wit
Trackback URL: https://www.50pluslife.com/2010/07/05/publisher%e2%80%99s-corner-positive-changes-are-in-store/trackback/