July 5, 2010
What's It Take To Be a Pink Tie Guy?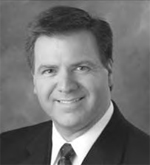 By Gary Metivier
I must admit, the first time Sue Brunsma at the Syndicate Hub men's clothing store suggested I try a pink shirt and tie I pulled back. It wasn't so much a 'I'm too macho to wear girly colors' sort of thing. I just didn't see myself as a pink tie kind of guy. Blues, blacks and greens are more my thing. But I told Sue—I would think about it as I placed the pink shirt and tie back down on the table and reached for a solid white standard issue shirt to add to my wardrobe.
Within a few months I was back for more. Like many guys, I like to freshen up the wardrobe, but I hate to try on new clothes. I guess I've always been that way. When I was a little boy I was forced to go with my mom once or twice a year to Sears to get new school clothes to mix in with my hand-me-downs from 6 older brothers. I'm sure you can imagine the mountain of clothes at various stages of destruction left over from all of those boys taking turns wearing them for a bit—then passing them on to the next 'victim'– ultimately the youngest son—ME!
It was nice to get some pants that had not been worn by anyone else—EVER! And 3 or 4 shirts, too. Of course, there was also the blue Leisure Suit that I was sure no one else would borrow or steal—you know the flammable polyester pants and jacket set that melted if you got too close to the flame? It never wrinkled either—a bonus for my mom who spent much of her day ironing in the living room. She already had her hands full ironing sets of bed sheets for fourteen people..
So now, as an adult, a couple of times a year I get to 'suit-up.' It was time again—and I had my time to consider whether the color pink and I would work together.
"I'll give it a try," I told Sue. The words said 'yes,' but my face must have said "what are you doing to me?!"
Sue reassured me that is was a good look, and that our female viewers would like what they see. I added it to my stash and headed for home. That poor pink shirt and lonely pink tie stayed in their own space for awhile. Then one day I thought, "What the heck!" I grabbed the shirt, pulled out those little cardboard support things, removed all of those pins that like to catch you if forget to grab each one—and headed for the ironing board to give it a quick freshening up.
At work, my co-workers had plenty to say about my new duds. I had several of the 'wow—that color looks…..(yes, a real pause here) nice" from some of the women in the newsroom and production. Most of the guys gave me predictable odd looks and the 'I gotta say something about real guys wearing pink" comments. But I figured – this too would pass. I took the brunt of the storm and made it through. I received considerable response from our loyal viewers, almost all of them women, saying how nice they thought the pink looked on air. Some asked if I was wearing pink to send a message. Maybe I was? It may not have started that way—but I was about to discover there was power in pink.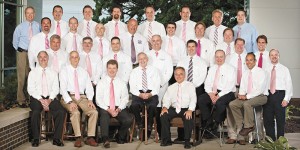 It was the viewers who thought I was paying a tribute to the many women touched by cancer in our lives. That was not the intention the first time I wore pink, but it soon transformed into that. Some amazing women helped me realize that along with risking the possible sneers and jeers of wearing a cotton-candy pink shirt, I could also be inspiring someone to help in the fight against breast cancer or at least put a smile on a person's face to see a salute to women. Not one to back down from a challenge, I added more pink ties to my collection and have included the color scheme into my non-scientific rotation of on air apparel.
Last year, I got a request to be part of something that was indeed a perfect fit. My friend, and former best-boss ever (along with Jim Graham, of course) Cathie Whiteside invited me to be one of the founding members of the Race for the Cure Pink Tie Guys. Our mission was simple enough — wear pick ties and help recruit and raise awareness for the fight against breast cancer.
This year 38 of us suited up to take on the mission once again. A true cast of characters that includes businessmen, doctors, writers (my pal, Bill Wundram took center stage) even weathermen (I think they stuck Ryan Burchett and Greg Dutra in the back of the photo because it rained that day). Jim Graham, who was part of the first year's event, was there in spirit—likely watching over us from heaven, still wondering where we found all those pink ties anyway.
Thanks, Sue for challenging me to try something new. Now I challenge you readers (obviously bright readers who choose to read this fine publication) to encourage others to take a chance and make a statement with what they wear. Who knew that a simple pink shirt and tie could say so much? And one of the best parts is, my pink shirts and ties are all my own, not hand-me-downs from my older brothers.
Find out more about supporting the Race for the Cure online at www.komenquadcities.org.
Filed Under: Community, Featured, Health & Wellness, Personal Growth
Tags: Bed Sheets, Close To The Flame, Clothing Store, Couple Of Times A Year, Female Viewers, Greens, Hand Me Downs, Hub, Leisure Suit, Living Room, Mom, Mountain Of Clothes, Pink Shirt, Polyester Pants, School Clothes, Sears, Shirt And Tie, Tie Guy, Wardrobe, Youngest Son
Trackback URL: https://www.50pluslife.com/2010/07/05/what%e2%80%99s-it-take-to-be-a-pink-tie-guy/trackback/