July 5, 2010
Who's Really In Charge?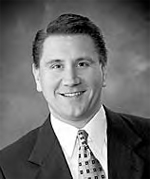 David W. Deuth, CFSP
President, Weerts Funeral Home

The third article in a series intended to help readers gain a better understanding of things most people never think about – until it's time to plan a funeral.
Previous articles in this series have underscored the importance of having a Will, making sure it's up-to-date, and that good planning can go a long way toward preventing unanticipated turmoil when there's a death in the family. We also addressed the fact that Iowa declares by statute who's in charge of your funeral arrangements.
Section 144C.5 of the Iowa code pertains to this issue. Condensed for space purposes, the following persons are granted the right to control funeral arrangements in the order listed (NOTE: All must be "competent adults whose whereabouts is reasonably ascertainable"):
1. A designee, or alternate designee, acting pursuant to the decedent's declaration.
2. The surviving spouse of the decedent, if not legally separated from the decedent.
3. A surviving child of the decedent. (*)
4. The surviving parents of the decedent.
5. A surviving grandchild of the decedent. (*)
6. A surviving sibling of the decedent. (*)
7. A surviving grandparent of the decedent. (*)
8. A person in the next degree of kinship to the decedent in the order named by law to inherit the estate of the decedent under the rules of inheritance for intestate succession. (*)
9. A person who represents that the person knows the identity of the decedent and who signs an affidavit warranting the identity of the decedent and assuming the right to control final disposition of the decedent's remains and the responsibility to pay any expense attendant to such final disposition. A person who warrants the identity of the decedent pursuant to this paragraph is liable for all damages that result, directly or indirectly, from that warrant.
10. The county medical examiner, if responsible for the decedent's remains.
[(*) if there is more than one, a majority of those surviving]
While this list is somewhat lengthy, it clearly defines the order of succession for the Right To Control. And it may not always be who you thought it would be. Recalling the example from last month, it is clear to see how a second marriage places the spouse in line before a person's own children from a previous marriage, for example.
Further, the statute has been recently amended to include the very first person listed: a Designee. While most will never need this provision, there are some circumstances where the option of appointing a Designee may be well worth considering. Two potential scenarios:
1. SOLE SURVIVOR. Although rare, there are instances where a person may be the sole surviving member of their nuclear family. In such cases, this person could appoint a Designee (and an Alternate Designee, if available) to be responsible to carry out final wishes for funeral arrangements. This Designee is critically important to the funeral director in making sure the person's wishes are both known and carried out as requested.
2. CONTENTIOUS FAMILY ISSUES. Occasionally, these circumstances arise – and we've learned that such issues are often magnified during the emotionally-charged time surrounding a person's death. In situations of notable unrest or family disagreement, much turmoil can be avoided by properly appointing the specific person(s) you trust to carry out your final wishes as your Designee.
With this in mind, appointing a Designee should not be entered into lightly. The nominee must be a competent adult who can make good decisions and should be someone who is well aware of your wishes. [Note: Recording your wishes with the funeral home is always recommended; copies of your wishes can be provided for your Designee(s).]
In either of the two scenarios listed here, pre-payment can also save untold turmoil. When the arrangements are pre-paid, the Designee will be responsible to coordinate your wishes with the funeral home and see that those wishes are carried out as you had intended. If the arrangements are not pre-paid, however, the Designee will ultimately be responsible to not only see that your wishes are carried out but also that available funding exists for those wishes. BOTTOM LINE: your Designee should be someone who is willing, responsible and someone you trust completely.
Appointing a Designee involves completing one simple form. The signatures of the Designator and the Designee(s) must be signed in the presence of a Notary Public. Once completed, this form should be placed on file with the funeral home with copies presented to your attorney, the Designee(s) and other family members as desired. As with other documents that are critically necessary at death, it is not recommended that you place the document in a safety deposit box unless someone else (preferably local) has access to the box as well.
And, just like your Will and your life insurance policies, it's a good idea to review your Designee declaration every five years – or whenever death, marriage or divorce affects your family landscape.
I hope this series has been both informative and helpful. Perhaps it has raised additional questions in your mind – if so, feel free to give me a call or send an email if you have specific questions.
In the end, good information goes a long way toward making good decisions. And good decisions made in advance can make things a little bit easier for your family on one of the worst days of their lives. And that should help create a better opportunity for them to reflect, reminisce . . . and
Remember Well.
Filed Under: Finance
Tags: Affidavit, Cfsp, Competent Adults, Damages, Death In The Family, Decedent, Designee, Funeral Arrangements, Inheritance, Iowa Code, Kinship, Medical Examiner, Paragraph, Parents, Sibling, Space Purposes, Succession, Turmoil, Warrant, Weerts Funeral Home
Trackback URL: https://www.50pluslife.com/2010/07/05/who%e2%80%99s-really-in-charge-3/trackback/