August 5, 2010
Hilltop Campus Village
A Main Street Iowa Program rejuvenating the heart of the Hilltop Campus Village Area in Davenport.
By Scott Tunnicliff
Program Director
Hilltop Campus Village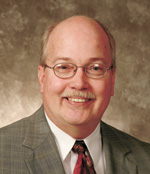 Once upon a time in the center of a land known as Davenport, there was a Village noted for its blend of activity where trade was conducted near well-maintained residential neighborhoods. Grocery stores, book shops, ice cream parlors, billiard halls, barber shops, banks, a movie house, nightclubs and cafés all rounded out the area.
Grownups would walk to work, take the streetcar or, if their job was further away, drive the family automobile. Children walked to school as elementary, intermediate and senior high schools were close by.
The Village was home to many beautiful properties that would one day come to be known as historical, including churches, residences and various places of business. Students came from all over the world to further their education at places of advanced learning at each end of the Village.
Sounds pretty idyllic, doesn't it?
Not all that long ago, this was a pretty accurate description of the area now known as the Hilltop Campus Village in Davenport. Bounded by 5th Street to the south, Perry on the east, Ripley and Gaines to the west and Lombard to the north, many of these idyllic elements are still in place here. Best of all, people are working to help recreate the vitality that helped shape this part of Davenport.
This is the first of a series of 50+ Lifestyles articles that will tell of these efforts. Volunteers are already at work with the newly formed Hilltop Campus Village to enhance the commercial aspects of this area, augmenting worthy efforts that have been ongoing for many years in hopes of restoring and revitalizing the residential neighborhoods. Subsequent articles will outline the initiatives being undertaken, the partnerships that are forming, the challenges that await, and how citizens can become involved.
We're excited about the future of the Hilltop Campus Village and look forward to keeping you informed of our progress in 50+ Lifestyles.
Filed Under: Community, Featured
Tags: Accurate Description, Barber Shops, Billiard Halls, Business Students, Commercial Aspects, Davenport, East Ripley, Family Automobile, Grocery Stores, Grownups, Harrison Street, Iowa Program, Locust Street, Lombard, Movie House, Nightclubs, Program Director, Residential Neighborhoods, Senior High Schools, Street Iowa, Streetcar, Tunnicliff, Vitality, Worthy Efforts
Trackback URL: https://www.50pluslife.com/2010/08/05/hilltop-campus-village/trackback/