August 5, 2010
On The Go With Joe Hutter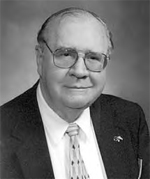 Seniors And Law
Enforcement Together (SALT)
By Joe Hutter
We used to see many signs on fences and homes that said "Beware of Dogs." Today that has changed to "Beware of People." Because seniors are trusting, it has become easy for us to be victims. "Free Trial Offers" for travel clubs, buying clubs, and credit card protection plans are everywhere. When the "free" time is over, the cost goes on your credit card. If you start a program, they make it difficult for you to stop. Don't be trapped by free trial offers. Don't cash checks you get in the mail unless you expect them. Always read the check – front and back.
If you are having financial problems and need help, contact your local university extension office, a local credit counseling center or the Attorney General's Office Consumer Protection Division. In Iowa call 1-888-777-4590 toll free. Be careful!
Members of the SALT (Seniors And Law enforcement Together) gave reusable grocer bags away at the Mississippi Valley Fair Senior Day. You are invited to attend any of our meetings at CASI on the 4th Wednesday of the month at 9:30 a.m. We do have members of the Davenport and Bettendorf Police Departments attend our meetings. Also, members of the Scott county Sheriff's Office are there. We are very informal and if you would like tot talk to an officer, they are there for you.
If you have any questions or comments, call 326-8217. Pam at the Scott County Sheriff's Office will help you.
Remember if it sounds too good to be true it probably isn't good for you. Do not give any personal information to anyone on the telephone. The money you save may be yours!
Take care.
Tags: Attorney General, Attorney General S Office, Bettendorf, Buying Clubs, Cash Checks, Consumer Protection Division, County Sheriff, Credit Counseling Center, Davenport, Fences, Free Time, Grocer, Hutter, Law Enforcement, Local University, Mail, Mississippi Valley, Pam, Police Departments, Seniors, Travel Clubs
Trackback URL: https://www.50pluslife.com/2010/08/05/on-the-go-with-joe-hutter-11/trackback/