August 5, 2010
Once in a Lifetime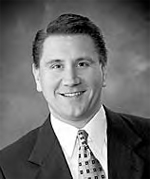 David W. Deuth, CFSP
President, Weerts Funeral Home
We knew we had to go. They really needed to see each other.
Several years ago, Linda's youngest brother enlisted in the Navy as he enrolled in dental school. Not many receive the prestigious Navy scholarship. Those who do will commit themselves – and their family – to four years of military dental service following graduation. When the Navy asked Duane to list his top three choices to fulfill his four years of duty, he listed places like San Diego, Jacksonville and Houston.
He was assigned to Camp Foster on the remote Japanese island of Okinawa.
Duane and his wife Sandy, along with their two young sons, left Minneapolis nearly two years ago for this unknown land on the other side of the globe. Skype has heretofore afforded us 2-D glimpses of their new way of life, allowing us to watch the boys grow from newborn and two to "two by four," if you please.
Several months ago, we offered to accompany Linda's parents to Okinawa if they felt they were up to the trip. Although they ultimately agreed to the journey, her dad's subsequent stroke in April raised some questions as to feasibility.
But we knew we had to go. They really needed to see each other.
Boarding a jam-packed 777, we flew non-stop from Chicago to Seoul, South Korea in something over 14 hours. I was ecstatic to see a Caribou Coffee on the concourse in Seoul. And the menu board was in English.
Another 2-hour flight delivered us to the main island of Okinawa. Completely decimated during WW II, the island is now home to some 1.5 million people…and several US military installations.
The reunion at the airport was sweet as parents reunited with a son and his family they hadn't seen in nearly two years. This is the stuff Hallmark movies are made of. We made the most of it.
Although we visited many places and saw innumerable things during the next week that introduced us to this remarkable culture, I found myself reveling most in the mealtime experiences when everyone was gathered around the table as a family. Several times I savored the dialogue and interaction between a grown son and his aging father. Always a meat and potato guy, my father-in-law was surprisingly receptive to the rice his son heaped onto his plate. And he didn't hesitate in expressing gratitude when Duane grilled some hamburgers. The seaweed was a quick thumbs down.
A magnificent island bounded by the Pacific on the east (yes, on the east!) and the East China Sea on the west, the topography varies drastically from densely urban in some areas to absolute jungle
elsewhere. Okinawans drive on the wrong side of the car, on the wrong side of the road. The heat and humidity border on indescribable. You honestly perspire while sitting still.
A few short days after arriving, lugging our bags back into the Naha airport, we began the difficult process of a long goodbye. Hugs don't last long enough there. Words are few; just the important ones. Tears say everything else. That last longing wave and forced smile are bathed in a tearful, brief eternity before finally turning for good to enter the security line. No looking back.
A quick jaunt back to Seoul. Not quite 13 hours back over the pond between Seoul and Chicago; tailwinds shaved an hour in the air.
As I helped my father-in-law up the steps and into our house, I exclaimed, "We DID it!"
"We did it," he replied in a tired but grateful tone. "I didn't think I'd ever get over there to see Duane. It was a once-in-a-lifetime trip. I'll never forget it as long as I live"… His voice trailed off.
"We had to go," I reminded him quietly. "You really needed to see each other."
As I dropped my head to my own pillow in my own bed for the first time in 10 days, the significance of our journey brought a satisfied smile. With the replay reel looping endlessly through my exhausted mind, I decided that there's a notable difference between remembering and not forgetting.
We will all Remember Well.
David W. Deuth, CFSP, is the owner of Weerts Funeral Home in Davenport. He can be reached at 563.355.4433 or Dave@WeertsFH.com.
Filed Under: Personal Growth
Tags: Caribou, Caribou Coffee, Cfsp, Concourse, Dental School, Dental Service, Glimpses, Island Of Okinawa, Japanese Island, Mealtime, Menu Board, Military Installations, Remarkable Culture, Seoul Korea, Seoul South Korea, Skype, South Korea, Unknown Land, Weerts Funeral Home, Ww Ii
Trackback URL: https://www.50pluslife.com/2010/08/05/once-in-a-lifetime/trackback/