August 31, 2010
In and Out of the Quad Cities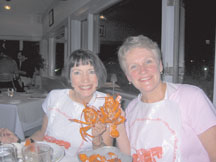 Contributed by Gail McPike and Toni Hall
Close your eyes and imagine the 100 greatest vacation destinations on the planet. Come on concentrate. Think vacation, get-a-way, fun, and family. Via mental telepathy we see your list – Orlando, Ocean Beach, Vail, Hot Springs and Hollywood are on your list. But before you rush over to the airport and plunk down your hard earned cash, join us as we present – The Ultimate North West Iowa Vacation. But, first let us set the stage.
Hubby Frank was called upon to conduct a workshop in Vermillion, South Dakota and somewhere along the way, he decided it would be a good vacation trip. Now understand, Frank didn't know where exactly Vermillion was located or what kind of place it might be. On the fateful evening before his arrival date, the four of us packed into the car and headed northwest – no map, no preparation… no nothing.
We routed ourselves to South Dakota via I-80, but somewhere just west of Walnut, Iowa (a wonderful town full of antique shops—by the way) we decided to go scenic. The remainder of the trip was spent on two lane highways seeing the USA the old fashioned way.
We hung around Vermillion for a couple of days. It's a sleepy little college town of 10 thousand souls. As we checked out Main Street (the real address not a figure of speech) we discovered the local yarn and wool expert and visited at her shop. Proving once more, there are fiber artists everywhere.
The North West Passage
We wormed our way home via windmill dotted northwest Iowa. We saw miles and miles of new technology windmills spinning in the hot summer sun. At one point just 20 miles shy of Storm Lake, we drove a couple of miles down a gravel road and across a corn field to get a
closer look at a wind turbine. They stand 300 feet tall and the blades are over a hundred feet long. The center part is bigger than a car, but they look little off in the distance.
We stopped for the night in Storm Lake. This is a farming town built around a large natural lake. For years the lake was not commercialized, but recently the city built King's Point Resort and Water Park. We met a teenage girl who worked there for the summer and the next thing we knew we were checking in. The hotel is modern and the view from our balcony was, well…, very vacation-like.
The Okoboji Roller Coaster Massacre
The next morning we set off to see another of Iowa's great lakes – Okoboji. At Okoboji is one of the oldest continually operating
amusement parks in North America. This place was started up at the turn of the century and features the 13th oldest wood framed roller coaster in existence – The Legend. Did we mention we survived a ride? Okoboji is home to the site of the Spirit Lake Massacre. The museum was closed, but hey it's Iowa, and we met the museum curator (and local historian) who stopped by to grab some mail on his way to the grocery store.,He related some very interesting tales and connected the Massacre to the Indian lore of QCA's Camp McClellan and Arsenal Island.
Let's do a hundred mile fast forward – Casey's, cornfields, pastures, Minnesota, Toni takes picture of her first visit to Minnesota, more cornfields, Buffalo Center, more windmills, Winnebago factory, Clear Lake, Buddy Holly, plane crash, Surf Ballroom, bootleggers and the Northwest Steakhouse.
Frank Lloyd Wright
Our vacation concluded with a stop at Mason City because of the history of Frank Lloyd Wright there. The Park View Inn is the only remaining hotel in the world designed by Wright. It is being completely renovated so we could only look on the proceedings from outside the construction zone. We will go back to see the outcome of the work. We saw the prairie style Stockman House that was designed by Wright in 1908 and then looked several prairie style homes in the area designed by colleagues and disciples of Wright. What an amazing sight to see century old houses that look as modern as these homes appear. Mason City has published a walking historical tour that allows the visitor to learn about the architecture of these lovely homes. The QCA could/should do something similar. And if you want to see more of the Frank Lloyd Wright designs and their renovations – check out www.wrightiniowa.com .
Our Great State Fair
We made our annual sojourn (with current trophy husbands Phil and Frank) to the Iowa State Fair. Truly this has become one of our favorite events of the year. Normally we drive over and back in the same day, but this year we decided to experience the Fair twice – after dark and in the early morning. Well we missed the early part, but we did get to the Fairgrounds before noon.
Our annual "fair fare" report:
Pork Chops on a Stick – very tasty but perhaps a bit too healthy
Giant Tenderloin – a pound of breaded pork on a bun, your typical 5,000 calorie sandwich
Grinder Sandwich – if these don't cause a heart attack, the heart burn will
Watermelon on a Stick – good for you, but not as good tasting as a funnel cake
Twinkie on a Stick – these and fried Snickers on a stick are the lost food group
Once more, we entered a number of items in the knitting and fiber arts contests. Hubbies milled around, kicking and spitting while, we spent hours eyeballing the fabric and thread displays. After the knitting stuff we decided to trace the yarn to its source. We ankled our way over to the sheep barn and looked over the fiber breeds.
A final word on the Fair – Pitchmen.
Guys like Ron Popeil and Vince the Sham Wow guy have to get their start somewhere. The shopper's mart under the main grandstand is the last bastion for "live" demonstrations. They've got the latest in modern gadgetry, miracle cleaners and fast talking pitchmen jumbled together in one spot. We consider it our duty as Iowans to consider the latest in household comfort and convenience. This year Snooze Time pillows won out over the purifying electronic foot cleaner. We'd tell you how we pooled our money and bought the bag of three pillows – but our Mommas taught us not to brag.
The Quest Continues
Last month we told you about our quest for the best cheap hamburger in the QC area. We plan to publish our full report later on, but allow us to share a preview from our unscientific research.
The Bent River Brewing Company in Old Moline has a burger deal on Tuesday. Their burgers and fries are good, but their special home-made
catsup is something to write home about. It's a tangy, slightly spicy habanera pepper flavored blend. When he first experienced this taste treat, Hubby Frank totally lost it. Like a young and fully eared Vincent van Gogh, he painstakingly painted each fry with an artistic design before delivering the morsel to his anxiously waiting taste buds. We heartily recommend you that you too paint your tongue and tonsils with this flavorful brew.
And, we appreciate those brave souls who shared their favorite burger deals with us. We still need your secret spot. If you do these kinds of things, email us at GailandToniQCA@gmail.
Tags: Corn Field, Farming Town, Fateful Evening, Fiber Artists, Figure Of Speech, Gravel Road, Iowa Vacation, Lane Highways, Mcpike, Mental Telepathy, North West Iowa, North West Passage, Northwest Iowa, Quad Cities, Storm Lake, Vacation Trip, Vermillion South Dakota, Walnut Iowa, Wind Turbine, Wonderful Town
Trackback URL: https://www.50pluslife.com/2010/08/31/in-and-out-of-the-quad-cities-11/trackback/