August 31, 2010
On The Go With Joe Hutter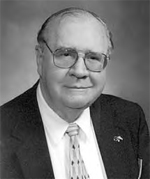 Seniors And Law
Enforcement Together (SALT)
By Joe Hutter
With economic times as they are, debt collection has been increasing. You may have a son or daughter who has been having financial difficulties, and they do have a right to be treated fairly.
Debt collectors can call only between 8 a.m. and 9 p.m., 7 days a week. They must go through court to garnish your wages. There are other laws regarding debt collection and if you have questions, call the Attorney General's Office of your state for more information. In Iowa, call 1- 888-777-4590.
We had a good day at the Fair on Thursday, August 5th. Members of the Scott County Sheriff's Office and RSVP were at our booth. The Plus 60 club was also there. Remember to attend Senior Day at the fair next year!
Mark September 9th on your calendar as the Senior Expo will be in Bettendorf at the Waterfront Convention Center. There will be many booths and entertainment from 9 a.m. to 3 p.m. Details will be in the Quad City Times. It will be an enjoyable day for you and your friends.
Looking for something to do this fall and winter? RSVP is always looking for volunteers, and they do have something for you. They have needs for one day or something on-going. You volunteer when you want to. If interested, call Linda Nielsen or Dave Layton at 793-4425.
If you want to know more about items you receive in the mail, asking for immediate response in an official looking envelope, show it to your children or a friend. Most items you get in the mail just want to get you to send in your money. Be careful with your money and personal information.
If you're looking for fun on Saturday, September 18th, stop by the Starlight Ballroom at the Mississippi Valley Fairgrounds for the Up With Families Dance – Fundraiser featuring music by Pulse-Ox, a crowd-pleasing, fun band! Doors open at 5 pm. Music from 6 to 10 pm.
The cost is $5 per adult and $2 for kids age 3 – 12. Tickets available at the door only! All proceeds benefit Up With Families. Up With Families is a local volunteer, non-profit organization that supports families with children with special needs through a weekend retreat to help them connect with peers and community resources. www.upwithfamiliesdavenport.com.
Take care!
Tags: Bettendorf, Booths, County Sheriff, Debt Collection, Debt Collectors, Economic Times, Fall And Winter, Featuring Music, Financial Difficulties, Fun Band, Hutter, Linda Nielsen, Mail, Mississippi Valley, Proceeds, Pulse Ox, Quad City Times, Rsvp, Starlight Ballroom, Wages
Trackback URL: https://www.50pluslife.com/2010/08/31/on-the-go-with-joe-hutter-12/trackback/